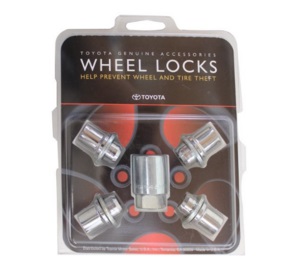 Best Wheel Locks 2021
Whether you are parking in a suspicious neighborhood, parking garage or are simply parking on the street, there is always the possibility that your car...

Whether you are parking in a suspicious neighborhood, parking garage or are simply parking on the street, there is always the possibility that your car and your belongings inside it can be stolen. One of the most frustrating versions of thefts is when the wheels are taken. Buying the best wheel locks will keep your tires safe no matter where your vehicle is parked.
Buying wheel locks means possibly avoiding having your wheel stolen or tampered with. As tires are extremely easy to take and impossible to track, criminals are targeting this part of a car more than ever. Having the appropriate lug nut locks can prevent you from becoming a target. This does not stop criminals from attempting to take the entire carbut it does ensure that your wheelswill not be, which is far more likely than the entire vehicle being stolen.
Aspects to Consider
When you want to protect your tires and invest in the best wheel locks, you need to know what features to look for. Here are some tips to help you make the right choice:
User-friendly. The lug nut locks that you choose needs to be easy for you to use and manipulate but not easy for any thief to remove.
Unique Key. The wheel lock should have a unique key to unlock it. This prevents thieves from having a universal key made that can unlock all wheel locks.
Price. As with any product, the prices can range from being extremely affordable to being out of your budget.
The prices for lug nut wheel locks are generally tame and the quality is similar across the board so there is no need to go for the top end even if you are very protective of your car.
Top 6 Wheel Locks Ultimate Chart
Buying Good Wheel Locks
Even after reading about all of the options, you may have further questions about how these lug nut wheel locks will help you. Here are some of the most frequently asked questions and some helpful pieces of advice:
The lug nut wheel locks can be used to replace one of the existing lug nuts that is used to keep your tire secure.
The unique key will be the only tool that can be used to remove the lug nut and therefore the entire tire.
It is recommend using one lug nut per wheel, but if you want to feel even more secure then you can replace all of the lug nuts that are holding the tires in place with these.
Where Should I Store the Unique Key?
The key should not be stored in an obvious place like the glove box or in the side of a door but should also never be left at home.
You will need this key if you get a flat tire or need roadside assistance.We suggest hiding the key in your trunk or special hidden compartment.
Top 6 Best Wheel Locks Reviews
The best wheel locks are the ones that do their job and will prevent theft, which is exactly what the Genuine Toyota Accessories do. These locking lug nuts are dependable in that they can only be removed using the unique key provided.
These lug nuts are made with precision to ensure they will not only protect your tires but also keep them in place for normal usage. These are very easy to install and easy for the person with the unique key to remove in case of emergency like a flat tire.
The McGard 24538 Chrome wheel lock lug nuts are made with some of the toughest materials. This means that they will only be able to be removed with the key and will also be impossible to remove if a thief were to use alternative methods.
Each of the keys and sockets have been uniquely cut as a set so another key from the same maker will not work on the lug nuts that you have installed. These locking lug nuts look great on the wheels or in some cases they aren't noticeable at all.
DPAccessories LCB3L6HC lock lug nuts are made with triple nickel chrome, which helps to make sure they will not rust or corrode.
The way these lug nuts have been made also ensures that they are strong and will not budge even when being tampered with using unconventional methods.
These lug nut locks do the job of keeping your wheels securely attached when a thief tries to steal them.You can be sure that this product will stand up to the test and keep the investment you have made in your tires protected.
WRITTEN BY

I grew up working on my own cars and motorcycles and 15 years later I love still getting my hands dirty.