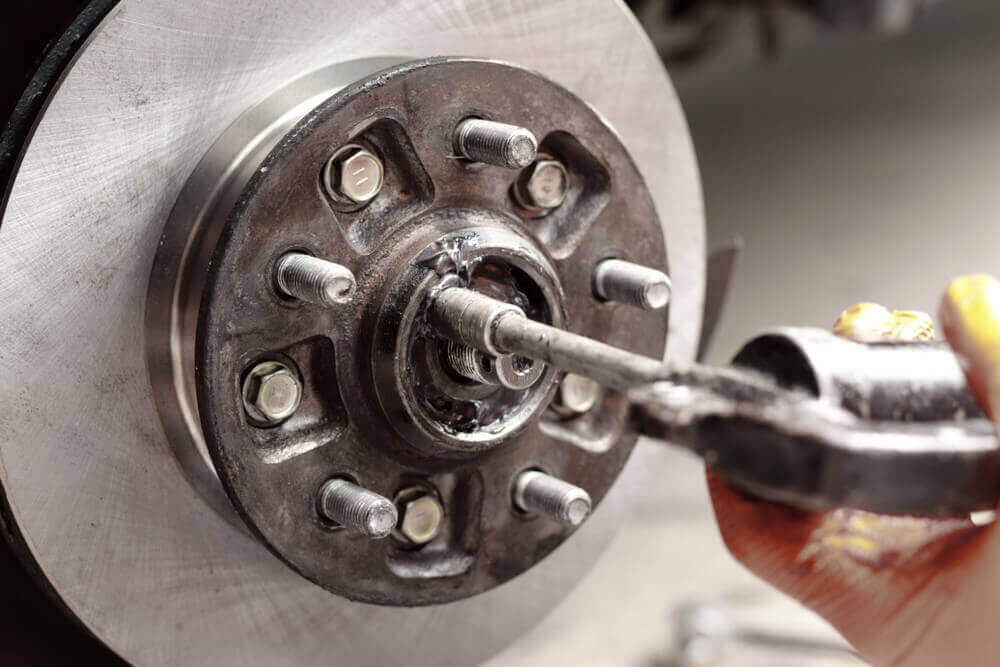 6 Best Wheel Bearing Greases 2021
Don't neglect your wheels until they start wheezing and screeching, use these wheel bearing greases.

Heat and water are the natural enemies of wheel bearings. Keeping your bearings cool and lubricated without any debris in the way is essential for them to function properly. The best wheel bearing grease is easy to apply and can ensure that your bearings will remain functioning for longer periods of time.
When looking for wheel bearing grease, you will be presented with a ton of different options. Knowing which grease is the best choice can quickly become overwhelming. With our list of the top rated wheel bearing grease, you will quickly be able to determine which one is worth using.
Top 6 Wheel Bearing Greases Table
Picking a Wheel Bearing Grease
When it comes time to actually find the best wheel bearing grease, you may find yourself overwhelmed. So many different grease options are available and this can get confusing rather quickly. Knowing what to looking for according to your needs is going to make the process so much easier to handle.
One thing to keep in mind when working with wheel bearing grease is that not all greases are compatible with one another. You cannot add one of type of grease with another type, which makes it crucial that you know which type of grease was last used on your wheel bearings. If you have no idea which grease type was previously used, you will have to remove as much of it as possible before adding the new grease.
Once you have removed all of the old grease, you can then proceed to putting in your new grease. In order to avoid having to remove all of the old grease the next time around, make a note of the new grease type that you're using. That way you can simply purchase the same kind the next time around.
Main Types of Wheel Bearing Grease
Multi-Purpose Grease. This is a general type of grease that is also the most commonly used. It can be used for all sorts of applications including wheel bearings, industrial machinery and more.
Molybdenum Grease. This is a type of grease that works best under extreme pressures. The main ingredient is molybdenum sulfide and it's often referred to as "moly grease". Some manufacturers will label this type as "EP" grease, which stands for extreme pressure.
LMX Red Grease. This type of grease is red in color and is best suited for heavy duty use. This makes it the ideal solution for wheel bearings, industrial use and other uses that require a highly durable grease. LMX red grease is water-resistant and is also excellent for outdoor use.
Marine Grease. As the name suggests, marine grease is completely water-proof. This makes it one of the best greases for wheel bearings, boat trailers and outdoor use. It has a sticky application, which keeps it in place at all times and it really gets the job done.
While all of these grease types could technically be used for wheel bearings, some prefer choosing LMX red grease or marine grease. Nonetheless, the other grease types listed here are all capable of getting your wheel bearings lubricated and functioning properly.
If you want to really make sure that the grease you choose is of high quality, opt for a synthetic grease type. Synthetic greases are much more efficient in both high and low temperatures. They are also very affordable when compared to petroleum-based greases, making them the grease of choice for most mechanics.
Top 3 Best Wheel Bearing Grease Reviews
One of the best grease options currently available on the market is the Sta-Lube Multi-Purpose Marine Grease. This grease is a combination of multi-purpose and marine grease, giving you the best of both worlds.
This grease is fully water-resistant, making it a great solution for wheel bearings. It's made from an aluminum complex using a highly refined base oil. This grease has polymer additives, allowing it to easily stick to virtually any surface you put it on.
If you're looking for one of the most all-around greases available and if you specifically want one for wheel bearings, you can't go wrong with the Multi-Purpose Marine Grease by Sta-Lube. This affordable grease is available in a 14 ounce format.
Another excellent option worth considering is the Timken Brand Premium Red Type Wheel Bearing Grease. This grease contains corrosion inhibitors, making it highly durable and effective for heavy duty use.
This grease has anti-wear and water-resistant additives, making it a very good option for wheel bearings and other intense applications. As a LMX Red Grease, it's specifically made for heavy duty use such as on vehicles and machinery.
The Timken Brand Premium Red Type Wheel Bearing Grease comes in a 16-ounce tub and is backed by an impressive 90-day guarantee. If you're looking for an excellent wheel bearing grease, you will love this product by Timken.
One of the top rated greases available is the Super Lub 21030 Synthetic Grease. This grease is a multi-purpose product, allowing you to easily use it for any type of application. However, it's also excellent for use with wheel bearings.
This synthetic grease has a translucent white color and comes in a 3 oz. tube, making it easy to carry around with you anywhere you go. This grease offers protection against friction, wear, rust and corrosion.
One of the great things about this lubricant grease is that it's compatible with most other types of grease. Consider the Super Lube 21030 Synthetic Grease if you're looking for multi-purpose grease that's of high quality and is compatible with most lubricants.
WRITTEN BY

I grew up working on my own cars and motorcycles and 15 years later I love still getting my hands dirty.