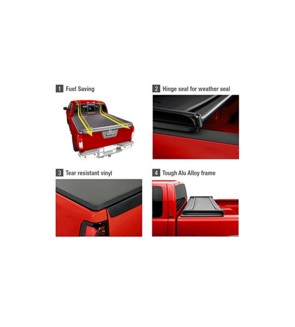 10 Best Truck Bed Covers 2021
Getting a cover for your truck bed is a must whether you are using your vehicle for work or for leisure. It not only gives...

Getting a cover for your truck bed is a must whether you are using your vehicle for work or for leisure. It not only gives your belongings a little protection from the elements but it will enable you to have a secure place to store all the necessary items that you keep in your truck.
The difficulty lies in making the right choice between the different covers as it is often confusing to select between products that look so similar. Each option has an individual benefit but you should certainly try to find the one that suits you.
We have collected together the best truck bed covers on the market and made a list of the top ten. You will find some great tips to choosing the right one and some of the best examples of quality covers right here.
What to Consider
Loose or Fold. In our list we have only included one option that is loose as they tend to be a little less secure but they do have some benefits including being able to fit on several models of vehicles and be able to be moved between different trucks. The fold top products will fit to specific models of truck and are much sturdier.
Size. It seems extremely obvious but many truck owners will buy a cover that seems a good product only to find that it doesn't fit. Most manufacturers will have various sizes available so it is best to check that you have one that will fit your vehicle first. This is especially true with the fixed fold covers. To help we have included the size of each of the products on our list.
Purpose. Function, looks, security, ease-of-use. Thinking about the function will make choosing the cover much easier. Most of the products we have included have a good finish and are quick to remove so you cannot go wrong with one of the listed covers.
Top 10 Truck Covers Complete Table
Finding the Perfect Truck Bed Covers for Your Vehicle
As the majority of covers are very similar it largely comes down to the finer details that will make the final decision between the models. The key difference between our listed covers is their installation technology. Obviously these follow very similar principles, as they try to be as easy as possible to remove and install, however there are some differences.
Your choice will really come down to how often you would like to remove the cover completely or if you are going to leave it on permanently. If the second option is the case then you can opt for a model that has a few more steps in the installation. These tend to be more secure and provide more protection for the items inside the truck bed.
Whichever installation technology you opt for make sure it fits your needs as there is nothing more frustrating than constantly needing to remove the cover and that taking more than only a few minutes to do.
3 Best Truck Bed Covers Reviews
The MaxMate TriFold Tonneau is made of high quality vinyl with metal supports. This truck bed cover, if properly cared for, will last for many years so it is a great investment for anyone that wants a cover that will stand the test of time.
This particular cover is incredibly easy to use and looks great with any color truck too. There is no assembly required, the cover simply needs to be clipped onto the truck and you're ready to do. The thickness of the cover is also something that makes it well worth the price. This thick layer keeps everything underneath protected from the elements.
The thing to remember about this cover is that it is more than a nice looking add-on to the truck. It truly is a functional product that works exactly as you would want one of the best truck bed covers to work. You will never have trouble adjusting it to fit your truck or getting under the cover when you need to.
What sets the Tyger TriFold Tonneau ahead of the competition is the short amount of time that it takes to install, uninstall and re-install the cover on any truck. This cover does not have any permanent parts to keep track of and install. It's just easy to use when you need it and easy to take off when you don't want it anymore.
This cover is not only flexible in its use but it is completely waterproof and stands up to high speeds as well. Considering the performance, the relatively low price and the ease of use, this truck bed cover is a steal. With this product you also get a cover that looks great on any truck.
The TAC Short Bed TriFold Cover Tonneau is known for being able to stand up to any weather and protect the things you have under the cover completely. Even when there is a downpour and you are travelling at high speeds, this cover keeps everything underneath totally dry.
This cover is easy to use and easier to install. You will be able to lock it as well as unlock it quickly to access the things under the cover. The quality of the material and the usefulness of this cover make it well worth the price. It extends the storage space of your truck for in any kind of weather and based on the quality, this cover will also last for many years.
WRITTEN BY

I grew up working on my own cars and motorcycles and 15 years later I love still getting my hands dirty.