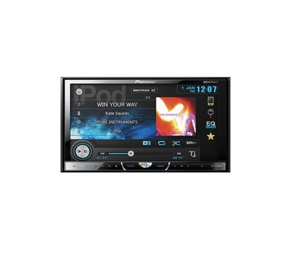 10 Best Touch Screen Car Stereos 2021
Having a great sound system can transform a driving experience but vehicles that come equipped with state-of-the-art stereos aren'tin the price range of most buyers....

Having a great sound system can transform a driving experience but vehicles that come equipped with state-of-the-art stereos aren'tin the price range of most buyers. Opting for a touch screen car stereo that can be installed into your car is the first step to getting a perfect sound system.
By opting for a touch screen car stereo you will have access to some of the best features on the market today but they are still incredibly varied. They are also quite a large investment when compared to other electronics available, so which one is the right one to buy?
To assist you with making this decision we have combined the top ten best touch screen car stereo models out there and provided some tips on finding the one that suits your needs.
Take This into Consideration
Added Extras. The best touch screen car stereo will be much more than just a radio and choosing which extras you want will mean the difference between getting a decent model and getting the perfect one for you.
We have included a list of some of the key features of each model in our top ten car stereo models.
Compatibility. Look at the way you listen to your music now. Do you use Pandora Radio? Is it important to be able to control your radio using your phone?
Often the most annoying aspect of buying a stereo is having to change the way you listen to your music, if the model you purchase is compatible with your apps and technology then you are guaranteed to love the stereo.
Back of Headrest Screens. The majority of touch screen car stereos are also receivers for DVDs this gives you an opportunity to have movie capabilities in your vehicle.
Whether you want to extend this out to headrest screens you should take into account CD and DVD playability features.
Top 10 Touch Screen Car Stereos Ultimate Table
| Picture | Name | Features | Price | Our Rating (1-5) |
| --- | --- | --- | --- | --- |
| Picture | Name | Features | Price | Our Rating (1-5) |
| | 1. Pioneer AVH-X5500BHS | AppRadio, DVD receiver, Pandora Radio for iPhone and Android | $$$ | 4.5 |
| | 2. Pumpkin C0224 | Built-in GPS, Bluetooth, Supports All Kinds of Connections | $$$$ | 4.3 |
| | 3. Kenwood DDX372BT | Bluetooth, Siri Eyes Free Control, Direct iPod or iPhone Control | $$ | 4.2 |
| | 4. JVC KWAV71BT | USB Audio and Video, Optional Satellite Radio | $$$$ | 4.2 |
| | 5. Pioneer AVH-X4700BS | DVD Receiver, Siri Eyes Free Control, SiriusXM-Ready | $$$ | 4.2 |
| | 6. BOSS Audio BV9967B | DVD Receiver, Bluetooth, Detachable Panel | $ | 4.0 |
| | 7. Pyle PLDN63BT | CD/DVD Player, Bluetooth, Built-in Microphone for Hands-free Calls | $ | 3.8 |
| | 8. Power Acoustik PTID-8920B | Flip-out Touchscreen, USB and SD Input, Ability to Connect to Rear View Camera | $$$ | 3.7 |
| | 9. BOSS Audio BV9364B | Bluetooth, Wireless Remote, 3 Year Platinum Dealer Warranty | $ | 3.4 |
| | 10. SSL DD889B | Detachable Screen, Bluetooth, Hands-free Remote | $ | 3.3 |
Choosing a Touch Screen Car Stereo
As you have opted for a touchscreen it is clear that you are looking for something that is easy to access and will provide exactly what you want without too much hassle. How easy the touchscreen is to use is then the most important aspect of choosing the right model for you.
In terms of ease-of-use there are several things to look out for:
Remotes. The first point is that many of these models are compatible with tablets or iPhones. This means you will not need to always use the touchscreen but will be able to use your technology as a remote.
Detachable Screens. Several of the models on our list come complete with fully detachable screens that can be passed around the vehicle. With Bluetooth technology this means that you will not have to awkwardly lean over to use the stereo but simply take the screen and use it at your leisure.
Larger Displays. If you think that having an easier to use screen will be better for your needs then you should opt for a larger screen. This makes everything much easier and will prevent you getting frustrated during use.
Top 3 Best Touch Screen Car Stereo Reviews
The easy to use and install Pioneer AVH-X5500BHS is an easy to use and simple to install touch screen car stereo system that leaves little to be desired. This stereo can be used with any and all devices you may have without issue and each sounding even clearer than the last. There is never any skipping and the audio is always clear and always beautiful.
In terms of the auto control, you can manipulate this speaker to do basically anything that you want. The sleek look of this stereo paired with the enhanced driving experience that comes with having your music being played through such a high quality system make this model well worth the price. It is an investment that you will certainly not regret.
The Pumpkin C0224 is like having a tablet in your car to control the music. It is easy to use all of the features and player options with this stereo, which makes it a great buy no matter which device or service is being used to play music.
With this model, it is also easy to use the Bluetooth hands free calling feature. The audio and the voice coming through are always incredibly clear and calls are never dropped.
The Kenwood DDX372BT works extremely well for normal radio use or for connecting with smart devices and music programs like an Android or Sirius radio, for example. The touch screen and the actual deck of this stereo are easy to navigate and use while driving. This is made even easier when you customize the features to suit your needs. The unit is easy to install and always produces the best sound. The Bluetooth also works great without any lag in the connection time. It is even possible to set up a remote control option with this stereo.
WRITTEN BY

I grew up working on my own cars and motorcycles and 15 years later I love still getting my hands dirty.