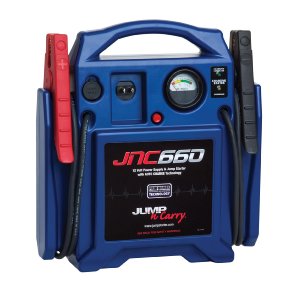 6 Best Portable Jump Starters 2021
A jump starter is an important tool at your disposal, particularly if your area faces extreme cold weather. Cold start and dead batteries are common...

A jump starter is an important tool at your disposal, particularly if your area faces extreme cold weather. Cold start and dead batteries are common car problems and a jump starter is a handy tool to overcome it. Basically a set of enclosed batteries with cables, jump starters are of different types and can be used for functions other than starting vehicles. Identifying and buying the best portable jump starter is a difficult job for those who don't know much about them.
To help you tide over that exercise effortlessly, we have put together this guide which will give you the required information to make an informed choice. We have organized the top 6 products in an easy to scan table and reviewed the top three portable jump starters to ease your shortlisting woes.
Top 6 Portable Jump Starters Table
Buying Information
Jump starter is a tricky unit. You want to get the most powerful unit (having maximum current output) you can afford but the catch is – larger the output, larger the voltage, heavier the unit – leading to reduced mobility. The trick is to identify what exactly you need a jump starter for, identify corresponding current output rating and then browse products.
Current Requirement. As we mentioned, current requirement should be the starting point of your research. It depends on the engine capacity and fuel type of your vehicle. Following table lists common car engine types and recommended current range:
| | | |
| --- | --- | --- |
| No. of Cylinders | Petrol/ Gas | Diesel |
| 4 | 150 - 200 A | 300 - 400 A |
| 6 | 200 - 250 A | 400 - 500 A |
| 8 | 250 - 300 A | 500 - 600 A |
If you own a bigger vehicle such as a truck that is on the road for several days, going upwards of 1000 A is a good idea. Also, for extremely cold weather, double the recommended capacity to be on the safer side.
Top 3 Best Portable Jump Starter Reviews
A heavy duty performer targeted at professional users who know the basics of battery procedures, the JNC660 is a powerful best that will spin any engine – be it of a car or a truck. Though it has a cigarette lighter like plug point to power other devices (laptops, tablets, mobile phones), it doesn't come with a number of "dummy-proof" safety features (other than auto charge) that would be handy for a layman.
A jump starter is often your only ray of hope when you are stuck with a dead battery on a highway and this works flawlessly, every time! You can count on it even if you require more than one starts in a day without having to charge it. To ease your concerns further, it comes with a one-time lifetime redeemable certificate, which can be used if it ever stops working. All you need to do is to send it to the company (along with $50) and they will replace or repair it without questions.
Overall, it is a heavy duty, reliable, quality performer that gives you the peace of mind on those long trips.
If you are looking for a jump starter that would work with any car type (gas/petrol/diesel) and tackle dead batteries in moderately cold conditions, we strongly recommend this one. It can handle other battery types (motorbike, boat, light duty trucks, tractor, Recreational Vehicles) as well, which makes it a versatile player.
It works well with vehicles having up to 6.5L gas or 5.0 L diesel engine. It lasts up to 30 times on a single charge. Dual USB charging comes in handy when your tablets, phones, kindles or other devices run out of juice. Other than utility, what we loved the most about the Gooloo GP37 is the Intelligent Clamps it comes with, making it an excellent option for non-professional users.
This is an ideally sized, value for money jump starter that you can use without worrying about excess voltage or current, short circuit and overloading.
DB Power is known to offer utility products with a difference and this one stays true to that philosophy. Other than a 600A jump starter that works flawlessly across vehicle segments (having up to 6.5 L gas or 5.2 L diesel engines), it has added a couple of very useful features that make it stand out in the crowd when you are looking out for best portable jump starter.
In a crowded, hyper competitive market that is full of reliable jump starters, DB Power has added a useful LCD screen and a flashlight (that works on different modes – strobe, SOS, high) and a red LED for emergency situations. That's not all – it features a compass as well, which is super useful when you are on the road without data connectivity and navigation. Throw in the safety features and a 3 year warranty and you don't have to look elsewhere.
We hope this guide gave you all the information you required to identify and purchase the best portable jump starter that suits your purpose.
WRITTEN BY

I grew up working on my own cars and motorcycles and 15 years later I love still getting my hands dirty.