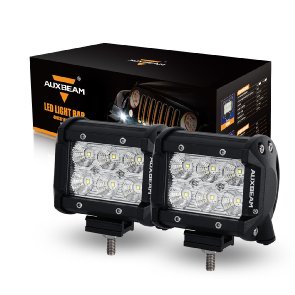 6 Best Off Road Lights 2021
Off-road adventures are certainly fun during the day, but in order to stay safe at night, you're going to need some additional lighting to help...

Off-road adventures are certainly fun during the day, but in order to stay safe at night, you're going to need some additional lighting to help you stay on track.
Choosing the right lighting for off-roading requires you to understand a bit about the different products out there, which is what we will be explaining to you here in our guide.
We'll help you find the best off road lights and provide you with some basic info that will help you decide which one is right for your needs.
Head down and check them out!
The Main Features
The lighting is obviously the key to being able to see when you are driving on paths less traveled. Off road lights come with different types of lamps, each of which have their pros and cons.
Halogen. This low-cost option is not as common in off-road lighting but it is the most common type of headlights found in cars today. The most prominent reason to choose these lights is because they are cheaper but the downside is that they do heat up quickly.
HID. High-Intensity Discharge lamps are an improvement on the more traditional halogen lamps because they are more efficient and last longer. The main reason to choose this kind of light is because they provide better directivity.
LED. This is probably the most common for use with off road lights because they have a longer lifespan than the other lamp types. The LED lights are better than others in almost every sense except for the higher initial cost.
Expert Tip: If you participate in off road driving as a hobby and are looking to make a good investment in your additional lights, we would recommend LED lamps when possible.
Top 6 Off Road Lights Table
How to Choose the Perfect Off Road Lights
To make sure you are getting the lights that will best serve your needs, consider the fitting. This means whether or not the lights will fit your specific vehicle, if the lights come as a bar or as separate lamps and where they should be mounted for the best visibility.
For flexibility, choose the lights that come separately so you can place them differently for different types of weather and terrain. If you will keep the lights on your vehicle, then we recommend getting the longer bar lights that will stay in place more securely.
Top 3 Best Off Road Lights Reviews
The Auxbeam lights are very bright and their capabilities exceed the price point. The lights are designed to be as convenient as possible in terms of design and mounting and performance.
After testing them in foggy conditions and on clear nights, it is easy to see that these lights add a huge amount of visibility to any off road driving. They are also totally waterproof, which makes them especially great for driving through muddy weather or if you use them for getting to a hunting spot.
The flood beam part of these lights and the angle that you get increases the possibilities for where you can safely drive at night.
Possibly the best thing about the TMH Dual Row High Power Cree LED Work Light Bar is the fact that it can be universally fit on any and every vehicle you might have. The lights are incredibly easy to install to, so you can change them and use them on different vehicles.
The bar itself is highly durable and secure, despite being so flexible in terms of where it can be used. Considering the price and the quality, you really do get a good deal with these lights.
What makes these the best off road lights for any kind of driving is also the flexibility in terms of the kind of weather they can be used in as they are totally waterproof.
Compared to other off road driving lights, you will notice that the Nilight Spot Driving Fog Light Off Road Lights Bar provides the brightest and whitest ray. This light is powerful enough to light up any dark road or trail any time of the night.
These are the kind of lights that won't get fuzzy or watery over time either. They keep out all of the things that might obstruct the quality of the lights or make them less bright.
It should be noted that all of the brackets and mountings that you need are included when you buy these off road lights, so you can install and use them right away.
WRITTEN BY

I grew up working on my own cars and motorcycles and 15 years later I love still getting my hands dirty.