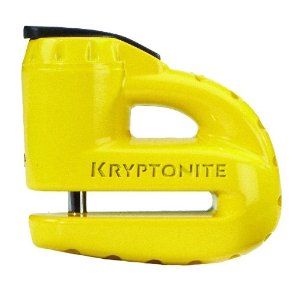 6 Best Motorcycle Locks 2021
If you own a motorcycle and love to ride, you'll want to invest in the best motorcycle lock on the market. A quality security setup...

If you own a motorcycle and love to ride, you'll want to invest in the best motorcycle lock on the market. A quality security setup is essential if you cherish your bike. Motorcycle thieves are quick and savvy, causing them to only need a few minutes to ride off on your bike. Adding high quality locking systems to your motorcycle will discourage opportunity thieves and make it almost impossible for serious thieves to cut their way through.
However, with so many different types of motorcycle locks to choose from, the decision is rather tricky. No need to worry though, we're going to help you find the best bike lock for your needs, starting with a brief overview of each type.
Different Types of Motorcycle Locks
Disc Locks. This type of motorcycle lock is placed directly onto the wheel, preventing it from being able to turn. Most disc locks are battery powered and emit loud alarms if any bike movement is detected while the lock is set.
Chain Locks. Motorcycle chain locks are essentially chain links that can be wrapped around any anchor point. These chain locks often have tight links, preventing thieves from being able to pry the links apart.
Cable Locks. This type of lock is often made from a steel-reinforced cable, which is highly resistant to hacksaws and steel cutters. Motorcycle cable locks come in a variety of lengths and can either be secured with keys or number combinations.
U-Locks. A motorcycle u-lock can be placed in numerous locations, but is commonly placed on the rotor to prevent the wheel from being able to turn, similar to disc locks. This lock type can also be combined with a chain or cable lock for additional security.
Top 6 Motorcycle Locks Chart
Top 3 Best Motorcycle Lock Reviews
The Kryptonite 000884 is among the best motorcycle lock systems available on the market. Available in chrome or bright yellow, this motorcycle disc lock has a 5mm pin, allowing it to fit even the smallest vent holes.
This compact and lightweight disc lock can easily be stored in any motorcycle's seat storage area. A storage pouch is provided and being fully weatherproof prevents it from rusting when used on rainy days. The high durability of this disc lock allows for usage in all weather conditions, while always providing maximal security.
The Krptonite 000884 Keeper 5s disc lock is affordable, reinforced by high security steel and includes a coiled reminder cable so you won't ride off into the sunset with this bad boy still hooked onto your rotor!
Another top contender is the Kryptonite Evolution Series 4 Disc Lock, which weighs in at just under 2.5lbs. This small u-shaped disc lock is reinforced by 14mm hardened MAX performance steel, which is resistant to cutting and prying attacks.
This intense motorcycle disc lock comes with a carrying pouch and three keys. One of the keys includes a battery-powered light, allowing you to easily unlock your motorcycle at night. A double deadlock locking mechanism helps to prevent twisting attacks and pry bars.
The Evolution Series 4 disc lock by Kryptonite is a bright orange color, which scares away opportunity thieves. It also comes with a reminder cable so you can be sure to never drive off without taking the lock off your wheel first.
If bike security is important to you, adding the Kryptonite KryptoFlex Cable Lock to your arsenal is an excellent idea. This cable lock features 10mm thick braided steel, which has superior cutting and prying resistance when compared to twisted cable locks.
A vinyl coating is added to the exterior of this lock, providing a scratch free surface that won't damage your paint job. Bear in mind that this is only a cable lock and has no actual locking mechanism. A u-lock or padlock should be used in conjunction for proper security and to ensure that your bike is fully secured to the anchor point of your choice.
The 7-foot length allows for this cable lock to protect multiple parts of your motorcycle simultaneously and it can even be used to connect two bikes together. While this cable lock is rather long, it can easily be stored in any motorcycle seat. The hook and loop strap allows for quick and simple storage.
WRITTEN BY

I grew up working on my own cars and motorcycles and 15 years later I love still getting my hands dirty.