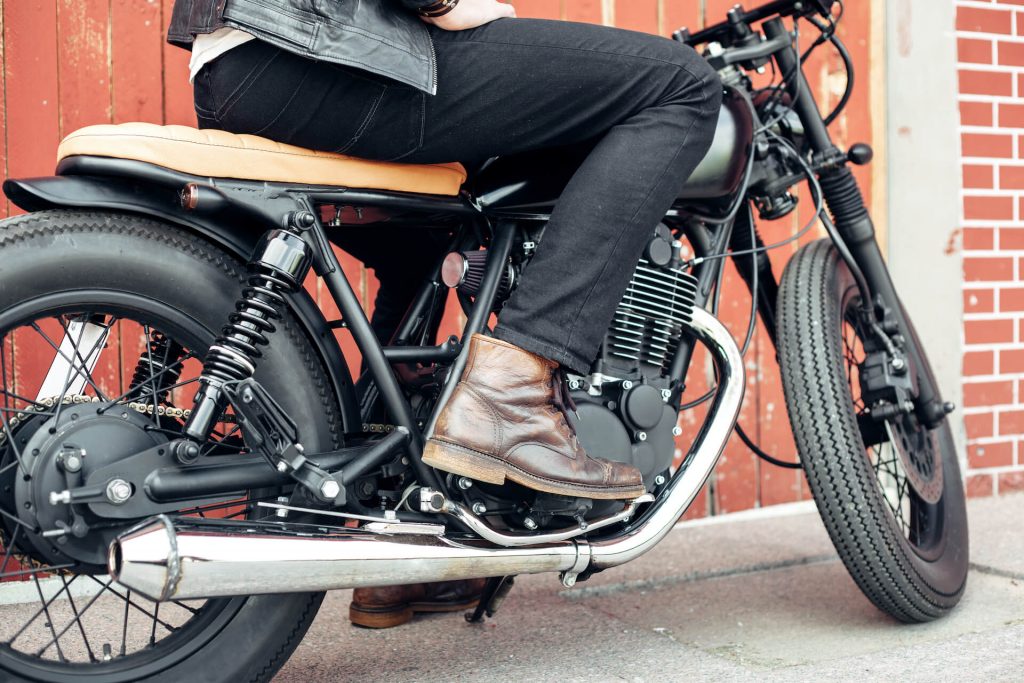 6 Best Motorcycle Jeans 2021
If you are looking for great protection you don't have to sacrifice style. Check out these motorcycle jeans that we would recommend.

Motorcycle crashes can be devastating even at low speeds, making it incredibly important to wear the proper gear while riding. While most riders wear the basics such as helmets, gloves and jackets, many opt for traditional jeans.
Standard jeans don't offer the required protection when sliding across asphalt and wearing full race-spec leathers just isn't practical once you reach your destination. Fortunately, there are many stylish jeans made specifically for riding and we're going to help you find the best motorcycle jeans for your needs.
Top 6 Motorcycle Jeans Chart
Choosing Proper Denim Weight and Lining
Buying a high quality pair of motorcycle jeans is nothing like buying your regular pair of Levi's. There are a few things to consider, most notably the denim weight and the lining material. We're going to briefly explain both of these so you can make an educated purchase and opt for the best motorcycle jeans available.
Denim Weight. The weight of the denim will mainly determine its durability. Denim weight normally ranges between 8oz to 16oz. Most traditional jeans are under 10oz, but the standard for motorcycle jeans is over 12oz. For optimal security, you should choose bike jeans that are 14oz, as this weight provides high durability while remaining supple and comfortable.
Safety Lining. The safety lining is what will protect your most vulnerable areas in the event of an accident. Most motorcycle jeans are lined with Dupont Kevlar fibers, while some use Aramid lining technology. These reinforcements are often added from the knees up, including strategic placements at the knees, hips and thighs.
With a mid to heavy denim weight and high quality lining, sliding across abrasive asphalt will become much less painful. Fortunately, you no longer have to compromise quality over style, since many of the best motorcycle jeans look amazing and offer incredible durability.
Top 3 Best Motorcycle Jeans Reviews
As the best pair of bike jeans currently available, the ScorpionExo Covert Jeans are extremely durable and comfortable. These motorcycle jeans have a heavy denim weight of 14oz, providing you with superior protection in the event of a fall.
165GSM abrasion resistant fiber lining made with Dupont Kevlar adds even more protection, providing you with a highly secure pair of jeans. These jeans certainly don't compromise on style; the trendy 5-pocket design offers great utility and they look great.
If you're a fashion-forward rider that wants protective gear that prevents you from having to change once you reach your destination, the ScropionExo Covert jeans have exactly what you're looking for. These jeans are affordable and available in black or blue.
The Newfacelook Denim Cargo Jeans are built to outlast even the worst asphalt slides at high speeds. These 14oz motorcycle jeans are made in the cargo style, with a very handy side pocket, two pockets in the front as well as two in the back.
These heavy duty bike jeans are resistant to heat, cuts and abrasions, providing superior protection. Protective 320GSM Aramid lining offers even more security with free removable protectors at the knees, hips and thighs. These flame resistant motorcycle jeans have contrast stitching in the front.
Newfacelook offers a full refund with postage if you find the quality of these jeans to be lower than expected. If you're looking for stylish cargo jeans that over amazing durability, you're going to love the Newfacelook Denim Cargo Jeans!
Another excellent option from Newfacelook is their pair of Men's Motorcycle Urban Camo Jeans. These jeans have an army camouflage design and they six overall pockets for optimal utility. While these camo motorcycle jeans look amazing, they are also highly durable.
These bike jeans are fire resistant up to 400c and they are also cut resistant. The thick 14oz denim provides excellent resistances against abrasions and remain incredibly supple for additional comfort.
The Newfacelook Men's Motorcycle Urban Camo Jeans are lined with 320GSM Aramid protective fabric throughout all of the most vulnerable areas. If you're looking for amazing protection while riding, while retaining a trendy look, you're going to fall in love with these camo riding jeans!
WRITTEN BY

I grew up working on my own cars and motorcycles and 15 years later I love still getting my hands dirty.