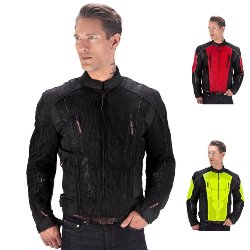 10 Best Motorcycle Jackets 2021
Whether you ride a speed machine or a classic Harley, you'll want your jacket to provide you with a few different things. Ideally, you'll want...

Whether you ride a speed machine or a classic Harley, you'll want your jacket to provide you with a few different things. Ideally, you'll want your jacket to provide you with a combination of protection, comfort, breathability and style. Finding the best motorcycle jacket that incorporates all of these things isn't always easy.
However, finding the top rated motorcycle jackets doesn't have to be difficult. We put together a list of the very best options available so you can quickly find one that fits your needs. With various styles, designs and price ranges, you're sure to find something that suits your needs and budget.
Top 10 Motorcycle Jackets Comparison Chart
Features Found on Good Motorcycle Jackets
Finding the best motorcycle jacket for your specific needs is incredibly difficult. There are many different options to consider including the design, security features, storage, fabric and much more. Knowing what to look out for will definitely take some weight off your shoulders, so we're going to go over some of those main factors.
Design. Purely up to personal preferences, the design is all up to you. However, keep in mind that you should never base your final decision solely on the design. The other factors should be considered at all times since a motorcycle jacket is much more than just a way to keep warm.
Safety Features. Motorcycle crashes can take a major toll on your skin, making a quality jacket one of the main ways to stay safe. Most jackets are reinforced with heat-resistant materials such as Dupont Kevlar. This will keep your skin and organs safe if you ever find yourself sliding across asphalt.
Material. There are various material types available. Leather and textile are the two main types, but they also come with numerous sub-categories. For instance, textile jackets can be made from various fabrics, mesh or more. Textile jackets tend to be lighter and more breathable than leather jackets.
Waterproof. There will be times when you're riding along the hot summer road and a dark cloud will pop out of nowhere. Having a waterproof motorcycle jacket will come in extremely handy. It's highly recommended that you purchase a jacket that is waterproof so you can stay as dry as possible during your rides.
Storage. Obviously, you won't have a glove compartment or trunk to put a ton of your personal items in your motorcycle. The under-seat storage is limited enough as it is. Most motorcycle jackets come with a handful of pockets that are strategically placed, providing you with the ability to quickly grab items when you need them the most. Whether you want to carry your wallet, cell phone or anything else, consider choosing a jacket with zippered pockets for those items.
In the end, it's not all up to style, design and fit. You will want to make sure that your jacket is lightweight, can keep water out and can keep you safe in the event of a crash. Leather jackets are very durable and efficient during a crash, but textile jackets have come a long way and now include safety features that make them just as efficient as leathers.
When shopping for a motorcycle jacket, you should compare a few jackets. Write down all of the positive features found on each jacket and narrow it down to just 2 or 3. Then you can make your decision based on style.
Top 3 Best Motorcycle Jacket Reviews
One of the top rated motorcycle jackets currently available is the Viking Cycle Warlock Motorcycle Mesh Jacket. This jacket is available in three different color options and it looks absolutely amazing. The mesh material makes this jacket super breathable and lightweight.
With the Multi-Sure Secure Fit system, you will be able to adapt this jacket to fit you perfectly. It features C.E. approved armor in the shoulders and elbows as well as a removable spine pad for even more protection on the road.
This stylish and trendy jacket by Viking Cycle has dual exterior pockets as well as multiple interior pockets for a great deal of storage. If you're looking for a great design, superior protection and great storage space, you'll love this Warlock jacket by Viking Cycle.
Available in a huge selection of colors, the Joe Rocket Atomic 4.0 Men's Riding Jacket is one of the best in the industry. The affordable price tag makes this fit pretty much any budget and the numerous design options allow you to adapt it to your own personal taste.
Multiple C.E. approved armor points are featured on the exterior of this jacket, providing you with the security that you need. The 6-point secure-fit technology allows you to really make this jacket fit you to perfection.
One of the best things about this jacket is the ventilation system. With extremely breathable material and cross-linked ventilation featuring wind tunnel cooling, you will always feel great wearing this jacket. It also comes with a removable insulated full sleeve liner, which is excellent for cooler days.
Another excellent option to consider is the Joe Rocket Phoenix 5.0 Men's Mesh Motorcycle Riding Jacket. This jacket is made from a highly breathable polymer/mesh shell using FreeAir technology.
The shoulders, elbows and ribs are protected by RockTex padding with C.E. approval. Additional padding is provided for the spine, kidneys and liver, making this one of the highest security lightweight motorcycle jackets on the market.
Numerous pockets are featured on this jacket including hand-warmer pockets, eyeglasses pocket and much more. If you're looking for an all-around jacket that provides security, comfort and a trendy design, you will love the Phoenix 5.0 by Joe Rocket.
WRITTEN BY

I grew up working on my own cars and motorcycles and 15 years later I love still getting my hands dirty.