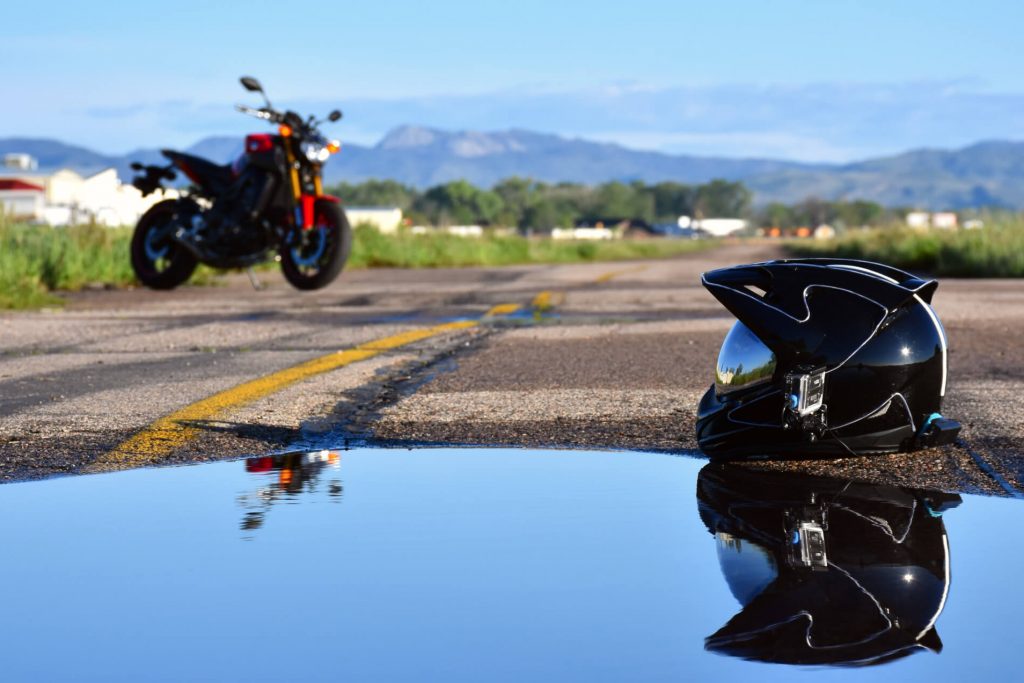 10 Best Motorcycle Helmets 2021
Our top of the list helmets for everyday or occasional riding.

Getting the most effective motorcycle helmet isn't something that should be taken lightly. This is a piece of gear that could mean the difference between life and death in the case of an accident, so you shouldn't take shopping for one lightly.
It's easy for inexperienced riders or those who are new to motorcycle gear to make mistakes when buying a helmet, which is why our guide will come in handy.
In addition to showing you the top ten helmets on the market, we'll also teach you what to look for as you shop in order to choose the best motorcycle helmet for your needs and size.
Always prioritize safety over fashion when it comes to a piece of gear like this!
The Key to Getting the Perfect Motorcycle Helmet
On our list, we have included a full range of the type of helmets that are available. Knowing the difference between all of these options will mean you can get exactly what you would like from your helmet.
Full Face. The name of this helmet type describes exactly what it provides, it covers your entire face. This is the helmet that provides the most protection and secures not only the top of your head but will save your nose and teeth in a crash.
The reasons that not every rider chooses this helmet are varied but the most common is that they do not provide full ventilation and they can be unpleasant to wear in the summer months. Basically, you should consider what type of riding you will be doing and whether the protection outweighs the occasional lack of comfort.
Half. This option is the helmet that only covers the top half of your head. It is intended for cruising motorcycles and those riders that want to feel as natural on the road as possible. The obvious drawback is the lack of protection for the riders face and you will also have to keep an eye on the straps of the helmet before you purchase it.
Flip Up. This is the best of both worlds. It is a half style helmet with a face protection bar that hinges into place. While this does provide protection, it clearly doesn't meet the standards of the full face, but the flip up comes with the added advantage of being able to uncover your face without completely removing the helmet.
Top 10 Motorcycle Helmets Comparison Chart
The Most Important Aspects to Consider
Before we get into the actual products, it makes sense to get to grips with what you should be looking for in a helmet. This seems like an obvious point, but there is a lot more to a helmet than first meets the eye.
Even the most experienced riders can overlook what makes a motorcycle helmet the best. Here are some points to keep in mind while looking at the list:
Fit. It doesn't matter if you have the best motorcycle helmet ever made, if it doesn't fit correctly, it won't do its job. Not only will it be dangerous in an accident, it will be uncomfortable and will potentially slip at the wrong moment.
It is crucial to look at each manufacturer's sizing guide and make sure you measure your head properly. This will save you both time and potential danger at a later point.
Style. Although we mentioned previously that you shouldn't buy a helmet because of the design or style, it doesn't mean it should be forgotten completely. It is simple when it comes to choosing a helmet, make sure you will want to wear it no matter what the weather/situation/season.
This generally means avoid purchasing a gimmicky helmet that has an over the top style. Most of us cannot afford to have various helmets for different occasions and this should be considered before you make the final purchase.
Comfort. It is obvious to anyone that a helmet needs to have quality padding for it to be comfortable but there are also several points that also contribute to the fit.
The main two that you should be looking at is ventilation and the straps. Whether you are getting a full face model or a half helmet you will want to make sure your head isn't immediately sweaty or that you find you can't breathe as freely as you'd like.
The straps are key to your comfort as even the slightest rubbing on the side of your face can drive you insane. Make sure everything is carefully finished and kept away from exposed skin, so avoid discovering comfort issues further down the road.
Top 5 Best Motorcycle Helmet Reviews
The LS2 Stream Snake helmet has a great overall look. The red snake pattern on the outside is sleek but also draws the right amount of attention to the style of the helmet.
The full-face style really keeps you protected as does the twin shield system drop down feature. This makes it easy to keep your eyes protected from the sun as well as the wind as you ride.
This helmet, however, isn't just about style. It is incredibly protective whether you are in a full on crash or simply skid off of your bike. This is one of the reasons this is such a good investment.
The 1Storm Street Bike helmet is incredibly comfortable and protective. It has all of the cushioning that you want on the inside to keep your head secure as well as the hard plastic on the outside for protection in case of an accident.
It should be noted that this is on the slightly heavier side in terms of helmets. This is something that can be attributed to the added padding and protection.
All of the safety features and add-ons do not mean that this helmet is without style. It comes in a variety of rich colors and it looks sleek regardless of which one you choose.
What makes the VCAN V531 Intricate Butterfly helmet perform so well is the fact that it is safe as well as unique. This is a half helmet that will keep you protected if you get into an accident but is also comfortable to wear too.
The shell of this helmet is made of a strong material that meets and exceeds the standards set by the Department of Transportation.
One of the best things about this piece of equipment is the fact that the padding is plush inside but the ones near your cheeks are removable and washable to refresh the entire helmet.
If you are in the market for the best motorcycle helmet, then the Bell Qualifier Unisex Street helmet should be on your shopping list. This is a helmet that is stylish and incredibly effective.
This full face street helmet has been made to be protective and lightweight in the perfect combination. It also has a click release-shield that is easy to manage while you are riding.
The interior padding is completely removable, which is something that also means this helmet will last longer as you are able to wash it completely.
The Full Helmets SH-HHFL67 HH Series is a helmet that is very stylish but it also is incredibly comfortable to wear. This doesn't just mean that it comes with great interior padding, which it does.
This means that the helmet is also comfortable to use and is vented to ensure there is a lot of airflow to keep your head cool while you ride. The shield is easy to release and it is kept clear from residue or breathing fog.
If you have ever used another motorcycle helmet then you will notice the increased quality of materials with this one in comparison.
WRITTEN BY

I grew up working on my own cars and motorcycles and 15 years later I love still getting my hands dirty.