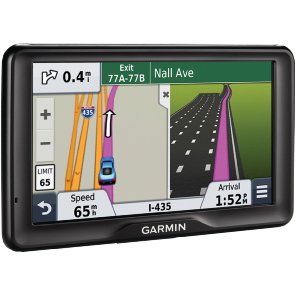 Best Motorcycle GPS 2021
Those of us who own a motorcycle understand what a freeing and fun experience it can be, but if you've been riding for a long...

Those of us who own a motorcycle understand what a freeing and fun experience it can be, but if you've been riding for a long time you may get the urge now and again to explore some places you've never been before. A quality motorcycle GPS makes exploring easy: you avoid the hassle of getting lost or not knowing where the next gas station. Just hop on your bike and hit the road.
Unfortunately, there truly is a huge amount of GPS products available often with many of them being very similar to one another, which can make picking the best motorcycle GPS a confusing and often frustrating experience.
In this guide, we will arm you with the information to pick the best motorcycle GPS which matches your individual riding style and needs. Making the right choice the first time round ultimately saves you money.
With that, let's begin!
Types of GPS for Motorcycles
Motorcycles GPSes come in all shapes in sizes with a variety of perks and features, but in general there three main types of GPS units which can be easily used on a motorcycle:
Motorcycle-Specific Units. Specifically designed for motorcycles in that they can be mounted to handlebars, are extremely durable (shock resistant/weatherproof) and have anti-glare and Bluetooth capabilities.
Portable Hiking Units. Compact and durable, these units are often cheaper than the more expensive GPS units. Special mountings which are able to attach these units to your ride are often required.
Automotive GPS/Smart Phone. Your third option is using either a smartphone and utilising its inherent GPS abilities or a standard automotive GPS unit. In both cases, however, we highly recommend investing in a heavy duty waterproof, shock resistant mounting/case.
Top 10 Motorcycle GPS Choices Table
Buying Information
The top GPS for motorcycles should have a myriad of essential features as well as some additional perks which match your preference. Here are some aspects to consider;
Location. Ensure your system has a strong GPS signal, that is not reliant on internet capability for areas outside of the normal range.
Durability. Ensure that your GPS unit is resistant to shock or vibration. Check the mount to make sure that it's both waterproof and shockproof to increase your unit's service life.
Mount. Check to see if the GPS unit comes with a universal fit mount. This is great if you have multiple bikes you want to use the GPS unit with.
Screen Size. This more preference than anything else, but make sure to pick a unit which has a screen size you feel comfortable with.
Anti-Glare Ability. A nifty feature which allows you to still see the screen even under high light conditions which ensure you never miss a turn. Not all GPS units have this, enquire before you buy.
Weatherproof. A must for any motorcycle GPS units which ensure that the unit is not damaged by water/moisture, dust and any other damaging outdoor factors.
Battery Life. Cheaper GPS units offer shorter battery life which is okay for shorter trips. For longer trips is may be worth investing in a unit which has a higher battery capacity.
Bluetooth Capability. A must for riders who use motorcycle intercom systems and need to answer calls and hear messages on the ride. This will ensure you keep your eyes on the road and not on your phone. They also have the added benefit of allowing you to hear turn-by-turn navigation.
SD Card. A nifty feature which allows you to load more maps onto you GPS unit as well as save your favourite route with no worry of running out of space.
Entertainment. Some units have added features such as satellite radio, traffic updates and weather reports.
Top 3 Best Motorcycle GPS Reviews
First on our list of best GPS for motorcycles is the nüvi 2797LMT by Garmin. This fantastic product comes with a bright 7-inch display which makes following the on-screen directions a breeze.
The onboard maps are highly detailed and with free lifetime map updates, you can rest assured that you will have the most up to date navigation experience around. It's spoken turn-by-turn directions further ensures that you stay on the right track.
Garmin Traffic is another nifty feature that keeps its user current on any potential traffic congestion, which in turn keeps you riding uninterrupted for longer. Garmin Traffic is voice activated which makes using this feature during a ride easy and safe. In fact, the whole unit is voice-activated meaning that you'll never have to take your hands off the handlebars.
Another truly great feature of the nüvi 2797LMT is it's built in Bluetooth capabilities this unit seamlessly connects to both your smartphone as well as your wireless helmet intercom. This is where the voice commands truly make this GPS stand out. It can also use your phone to share information of your routes, points of interest and where you parked. This also gives you access to real-time weather reports and traffic conditions.
This a truly great product for any motorcycle enthusiast and is well worth the investment.
Important: Though an excellent GPS unit, to use it to its full potential on your motorcycle you may want to invest in a waterproof/shockproof mounting system.
Second on our list is the nüvi 40LM by Garmin. This versatile global positioning unit is the perfect for any motorcycle enthusiast. Cleverly designed to make the navigation of all your trips as easy as simply inputting an address and simply following the directions. This nifty unit also possesses other premium features such as lane assist and junction view to ensuring that you make all the right turns on your journey.
This GPS unit's slim design makes it easy to slip into a pocket when not in use and its 4.5-inch diagonal colour display makes viewing upcoming road routes simple and efficient.
Clear, concise voice prompted turn by turn directions which accurately speaks the road names on your route further increasing its ease of use, however, this feature may be a little wasted on a motorcycle due to its lack of wireless capability.
Speed limits for most major roads as well as the inherent "Where Am I?" feature which allows the user to locate the closest hospital, gas station and other points of interest.
Important: Though an excellent GPS unit, to use it to its full potential on your motorcycle you may want to invest in a waterproof/shockproof mounting system.
Third on our list of the best motorcycle GPS units is the Nuvi 57LM GPS Navigator System by Garmin. As with all nüvi GPS units, ease of use is paramount.
It's clear, bright dual orientation 5-inch display is perfect for use on a motorcycle, however, due to its lack of Bluetooth connectivity, it's spoken map directions may be wasted for motorcycle use. The unit can be oriented both landscape and portrait depended on your ride and preference.
Despite this flaw, the Garmin Nuvi 57LM GPS Navigator System remains a solid product and rightly deserves its place on this list. With it, you benefit from Garmin's legendary navigational system which allows you to plan and execute your journey with precision and ease.
It also has a speed limit indicator that informs the rider on both his (or her) current speed as well as the speed limit of your current route - particularly useful in avoiding pesky speeding fines. The rechargeable battery only lasts a period of 2-3 hours which makes this product good for short distance journeys.
All Garmin products come with outstanding support and new models receive an automatic 1-year warranty for your ease of mind.
For optimal use of this product on your motorcycle make sure to purchase a compatible weatherproof case to protect both this GPS unit and yourself.
WRITTEN BY

I grew up working on my own cars and motorcycles and 15 years later I love still getting my hands dirty.