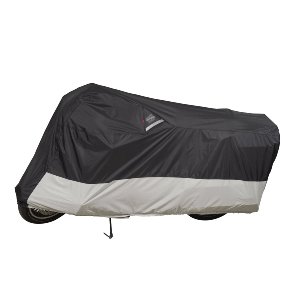 6 Best Motorcycle Covers 2021
You've just bought your new motorcycle but there's simply no room in your garage for your new love. Worse still, your partner stubbornly refuses to...

You've just bought your new motorcycle but there's simply no room in your garage for your new love. Worse still, your partner stubbornly refuses to leave their car outside and fails to see how important your motorcycle truly is… frustrating, right? Parking your motorcycle outside can lead to damage (both cosmetic and mechanical) due to exposure to adverse weather, dust and blistering heat.
Luckily, new technological developments and advanced fabrics make storing your motorcycle outside whilst keeping it in pristine condition as simple as picking the best motorcycle cover for your specific needs.
With this guide, we'll give you all the relevant information needed to make the correct choice the first time around.
Buying Considerations
Choose the optimum cover the first time around by keeping in mind the following important contributing factors:
Climate and Weather Protection. Does your home region have extreme weather? You may want to invest in waterproof/resistant covers. Conversely, if you live somewhere hot then UV/heat resistant covers would be a better option.
Security Features. A cover which doesn't advertise a standing bike to thieves can have anti-theft benefits. Can the cover be locked onto the bike?
Indoor/Outdoor Cover. If you are able to store your ride indoors, then go for a cover which is breathable but dust resistant- otherwise a heavy duty option is best.
The Size of the Cover. How big is your bike (inclusive of accessories)? Don't make a rookie error and buy the wrong sized cover.
Ease of Transportation. Do you need a cover that will store down small to a manageable size, considering a full/half cover is a useful exercise.
Top 6 Motorcycle Covers Table
Information for Buyers
To get more bang for your buck, a rugged outdoor motorcycle cover is the best motorcycle cover for you, even if you plan on keeping your ride indoors. Double stitched seams are superior to single stitched seams and will ensure that your ride remains completely dry. The only thing better is heat-sealed seams, which is the same technology used in the manufacture of advanced wetsuits. Heavy-duty polyester material which has been specifically treated to resist UV exposure or reflective coatings are also desirable features which will increase the life of your cover as well as your motorcycle. Check out our "Things to Consider" section for some extra notable features.
Top 3 Best Motorcycle Cover Reviews
For the complete solution, look no further than the Dowco 50003-02 Guardian Weather All Plus Motorcycle Cover. This is a truly unique product well worth the investment.
Made with Dowcos patented ClimaShield™ Plus technology, this cover is both completely waterproof and breathable. The double stitched, double heat taped seams are supremely flexible, strong and waterproof, making them highly effective in even the worst conditions. The reflective 300D polyester material uses water-resistant topcoat technology. It also has a built-in vented aluminium heat shield to protect your bike from damaging UV radiation, and to prevent the hottest parts of your engine from melting or burning the cover itself after use.
The reflective Moisture-Guard™ vent system is specifically designed to prevent the buildup of moisture inside the cover, making this product highly resistant to mildew growth and preventing the chance of rust on your ride. Dowco has also included a soft cotton interior near the front of the cover to protect your ride's windshield.
With added features such as a sewn-in hole for a wheel lock use, sewn-in pockets for an additionally-bought alarm package as well as a limited lifetime guarantee, you can see why this makes the top of our list of best motorcycle covers.
Second place on our top six choices is the Badass Moto Gear All Wx Motorcycle Cover. With taped seams and a waterproof coating, this is a great product for both indoor and outdoor use.
The inside of the cover sports a useful non-scratch windshield liner to protect the windshield of your new ride. Double venting stops the buildup of condensation within the cover, preventing any chance of rust or mildew growth.
The rear of the cover has a built-in heat protection system, shielding the cover from damage from a hot exhaust after extensive use.
The addition of well-thought features, such as reflective safety striping for easy visibility at night and alarm/lock pockets are also a plus.
The third best product on our list is the Deluxe all season Motorcycle cover (XXL) from Formosa covers. This heavy duty polyester cover is great for the average large bike owner and fits any bike up to 108" motorcycles.
Soft scratch-preventing lining ensures that your ride's paint and chrome work remains in good condition, whilst the water-repelling, UV-treated WatchGuard™ polyester covering ensures your ride stays dry in the rain and cool in the sun. The seams are double stitched, further improving this products ability to combat rainy weather.
The lower skirting of the cover sports ThermoGuard™ technology that protects your cover against excessive heat from your exhaust or other hot regions of your engine. For an easy fit, the Deluxe all season Motorcycle cover has a built-in elastic chord which ensures a snug fit to any model of bike.
This cover also comes with a handy travel bag for easy transportation and storage.
WRITTEN BY

I grew up working on my own cars and motorcycles and 15 years later I love still getting my hands dirty.