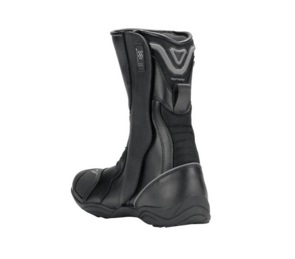 10 Best Motorcycle Boots 2021
When starting out riding a motorcycle and getting the gear the main obstacle is getting rid of all of the preconceptions that you have about...

When starting out riding a motorcycle and getting the gear the main obstacle is getting rid of all of the preconceptions that you have about protective motorcycle clothing. This is especially true when it comes to motorcycle boots.
Getting to know what kind of boot you are looking for takes long enough and then you are faced with all of the additions that need to be considered. To help guide you through making the choice we have created a list of the boots that meet the highest standards on the market today.
There is a wide selection and we have aimed to include something to suit every riders needs so it is best to look at each one on the list before making the final decision.
What to Look for in Your New Boots
In our list of the best motorcycle boots on the market we have provided the style of the particular boot. The purpose of your boots is everything and will really help you to decide what kind you should buy. Here are the different kinds and what type of rider should choose each one:
Road. This is for the everyday rider that needs general protection and all-round quality too.
Cruising. These boots are for riders that are more focused on style and each option gives protection as well as suiting the look of more impressive motorcycles.
Touring. For the long distance rider that needs to focus on comfort, this kind of boot will provide everything you need for those lengthier rides.
Racing. With the extra-added protection needed for high speeds, racing boots are aerodynamic as well as securing the rider much more effectively.
Top 10 Motorcycle Boots Overview Table
Mistakes Made When Searching for Motorcycle Boots
Trying to Get a Boot That You Can Wear All Day Long. It makes sense that a motorcycle boot would be made only to be worn whilst riding a motorcycle. This is often forgotten by beginner riders and they attempt to find a pair that can be worn at the office after riding in.
By trying to combine the two you will inevitably sacrifice an important aspect of either. It is crucial to focus on purchasing boots that will only be used for riding and nothing else.
Deciding on a Motorcycle Boot the Same Way You Would a Regular Shoe. Even the best motorcycle boots have the unfortunate tendency to be comfortable or uncomfortable when worn walking around and then be the complete opposite when riding.
Don't simply walk up and down a little and then decide on the certain pair. If you can have a ride in the boots before making the final decision or read reviews about the specific pair and see what more advanced riders say about the wearing experience.
Getting the Wrong Boots Based on Style. In our list we have mentioned several different styles. It seems straightforward but the majority of problems that first-time riders haveis they buy, for example, motocross boots when they are a touring rider. It just doesn't make sense.
Never choose a pair of boots because you like the look of them if they don't also fit your exact riding needs.
Top 3 Best Motorcycle Boots Reviews
The Tour Master Solution WP Air boots are great for all kinds of riding and in any weather. These boots have proven themselves to be extremely comfortable for long rides of over eight hours as well as being able to keep your feet warm in below freezing temperatures.
They keep your feet warm without causing them to sweat and always dry in the heaviest rain. These boots are true to size, if not a little tight but that makes them even better for secure riding. They also have great traction so your feet will always stay in place as you ride. You will not be disappointed by the quality of this boot. These are great to be used as an all-around go-to riding boot for wet and dry weather at any temperature. While style is always a concern, these boots do have a classic look but they can be better recognized for their usefulness.
The most notable aspect of the Dingo Chopper Harness boots is the quality of the material and the impeccable style of the boot itself. The metal designs add the perfect touch of class to these boots and make sure that whoever is wearing them will always be noticed.
These boots are for riders looking to have a "wow" factor rather than straightforward usefulness. They are comfortable but there is not much padding so it is recommended to wear a pair or two of socks if using the boots for longer trips.
Obviously Harley-Davidson is known for being a high quality brand, and the Harley-Davidson Scout boots live up to every expectation. The boots have a heavy sole which makes them great for riding but not for those looking to use the boots as a normal shoe. The presentation and the look of these boots is what is most appealing. They have an distressed look with the signature Harley leather that come together to create a stylish boot that can suit the taste of almost any rider. It should be noted that these boots run a little long in size so they are best when worn with a thick pair of socks to compensate.
WRITTEN BY

I grew up working on my own cars and motorcycles and 15 years later I love still getting my hands dirty.