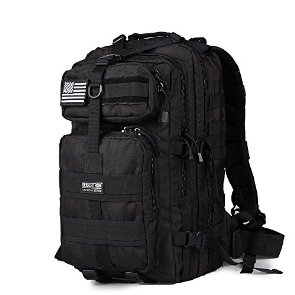 6 Best Motorcycle Backpacks 2021
Motorcycles are super fun and convenient, but they are not very practical in terms of storage space. Since you don't have the luxury of a...

Motorcycles are super fun and convenient, but they are not very practical in terms of storage space.
Since you don't have the luxury of a trunk or a truck bed to throw your gear into, you can turn to a backpack to offer you the additional storage space you need.
Having a good backpack to carry your items in while riding your bike is important and since there are so many options to choose from, we have created this simple guide to help you decide which the best motorcycle backpack for you is.
Top 6 Motorcycle Backpacks Comparison
What to Look for When Choosing a Motorcycle Backpack
Some manufacturers have designed backpacks specifically for bikers and these take into account some of the common issues bikers face. Two such issues are aerodynamics and how firmly the backpack and its contents are held in place while riding at speed.
Some backpacks that are designed for general use are also suitable for use when riding a motorbike, and the most suitable for bikers tend to have comfortable straps, waterproof materials for bad weather riding and also separate compartments for different items.
While much of what you would look for in a backpack for riding a motorcycle is personal preference and budget, there are some factors that everybody should take into account. A waterproof bag is essential for keeping the items inside dry during bad weather, while comfort and storage capacity are also very important when making a selection.
Top 3 Best Motorcycle Backpacks Reviews
The Seibertron motorbike backpack is made from durable 900D waterproof fabric and has a 37L capacity. One popular aspect of this back is its appearance and it is one of the best motorcycle backpack products for appearance.
It has a collapsible design that allows you to make the bag smaller, which is easily expanded as you fill it up. The bag also comes with plenty of straps that help to keep everything tight in place inside, and to keep the bag fitting tight to your body while riding.
Although designed with motorcycling in mind it can also be used for more general use. It is also compatible with the Seibertron 2.5L water bladder which is sold separately.
If you are looking for an aesthetically pleasing bag that is tight and secure while you are riding and has a good capacity, then the Seibertron motorbike backpack could be just what you have been looking for.
The Ogio No Drag Mach 3 outdoor active backpack is a bag that has been designed specifically with motorbike riding in mind. The molded rear exterior of the bag is designed to help provide an aerodynamic profile while riding, while also providing rigidity so the bag does not contort from wind pressure at speed.
This bag is also made for comfort when riding and has soft straps and a back design that helps to increase air ventilation. It also has plenty of compartments for individual storage, making it ideal for use by professionals that travel to and from work by motorcycle. Its quick release system also makes it easy to remove for added convenience.
If you do travel by motorcycle often and are looking for a back that is comfortable, streamlined and suitable for carrying a range of items, the Ogio No outdoor active backpack is hard to beat.
Made from 1000D nylon, this waterproof, tear resistant durable bag is made to last and is suitable for motorcycling and a range of other uses. Its scratch resistant surface also help to make sure that this bag will be looking as good as new long into the future.
The adjustable straps sit comfortably and the thickened sponge rear help provide comfort and help with air circulation. The bag has plenty of storage compartments and has a capacity of 20L overall.
One criticism from many owners of this bag is that it comes with an unpleasant smell when new, although most people have been able to eradicate this odor by airing the bag out and using various cleaning products.
Overall the ArcEnCiel 20L men's tactical bag is ideal for somebody that needs a durable and aesthetically pleasing bag for motorcycling as well as for general everyday use. If you are looking for a durable and flexible bag then this could be the best motorcycle backpack for you.
WRITTEN BY

I grew up working on my own cars and motorcycles and 15 years later I love still getting my hands dirty.