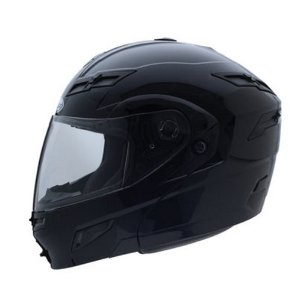 6 Best Modular Helmets 2021
Modular helmets continue to remain popular among all sections of bikers. They provide the best of both worlds – protection of a full face helmet...

Modular helmets continue to remain popular among all sections of bikers. They provide the best of both worlds – protection of a full face helmet and the comfort of an open face variant. You no longer have to take the helmet off to eat, drink or simply chat – all this without compromising on safety. Buying a modular helmet is an important decision, given the vast number of available choices. In this guide, we have put together the top choices to help you select the best modular helmet for your rides.
Top 6 Modular Helmets Chart
Purchase Information
Feature rich as a modular helmet is, it also comes with extra baggage (literally, in terms of weight), thanks to the extra mechanical parts that make the visor and jaw guard flexible. Though safety remains the most important aspect while buying a modular helmet for your ride, it is worthwhile to consider few more factors to select what suits your needs the best.
Size. Once you have narrowed down your search to helmets that are approved by a competent safety and standards authority (e.g. DOT), you want it to exactly fit your head. Sure shot way of finding out is to wear the helmet and see if it fits easily and doesn't wobble.
Riding Pattern. If you frequently go on long rides, getting a modular helmet with proper ventilation is a must. In addition, a built in slot for your headphones would be an amazing addition, as it saves you valuable time. On the other hand, an office goer who stays within 10 minutes of his office might choose to skip these features and save some money.
Cushion. Whether you are a dirt biker or a city commuter, your helmet should be well cushioned. Other than providing comfort, they distribute helmet's weight evenly across the contact surface and help avoid fatigue.
Top 3 Best Modular Helmet Reviews
What are the features of a great modular helmet? When shopping for a product like this, safety, comfort, utility, easy movement mechanism are of utmost importance. The Gmax G1540107 has all of these and much more to offer, making it the best modular helmet on our list.
As we have mentioned in the buying information section, a helmet's weight is something to be considered. At 5 pounds, this falls in the mid-weight range and once you put it on, it feels lighter because of the even cushioning on the inside. The flip jaw part is easy to remove through a conveniently located push to open mechanism. Its design allows for an enhanced field of vision and has nice little speaker pockets to slot in communication systems. Tinted sun lens ensures your vision is not affected on sunny days.
Given the comfort level, safety and useful little add-on features it comes with for the price, it is just the kind of high performance companion you would want for your rides.
If you are an adventure tourist, you need a helmet that is as rugged as you. Through Neotec, Shoei has taken modular, flip up helmet making to the next level - packing in a number of top end specifications.
Once you unpack it, two factors instantly stand out – its light weight (clocks less than 4 pounds once unpacked) and metallic design – which make you wonder if it's even possible. Snap down sun visor works wonderfully well, both mechanically and functionally. The number of moving parts has smartly been kept down to the minimum and riders can close both chin-bar and face shield in the same motion by the 360 degree Pivot Locking System.
If you are looking out for the best in modular helmet business without being budget restricted, get your hands around this adventure junkie and enjoy long rides like never before.
Looking for a modular helmet that is stylish and affordable without compromising on your safety? Triangle has a tailor made product for you. If you ride primarily for city commute and do not spend long hours, this one will do the job just fine without significantly depleting your wallet.
At 3.5 pounds, it is one of the lightest modular helmets around. The vibrant color combination and unique design are instant attention grabbers. Manually adjustable transparent visor and front part are easy to move and shaded visor is a desirable addition, which comes down at the push of a button. It is DOT approved, leaving little concern for safety.
For the price, it is a very useful piece of safety accessory. Doesn't come with noise mitigating features and the locking mechanism could have been better, but then, it gets the job done.
Hope this information helps you buy the best modular helmet that suits your needs. Happy and safe riding!
WRITTEN BY

I grew up working on my own cars and motorcycles and 15 years later I love still getting my hands dirty.