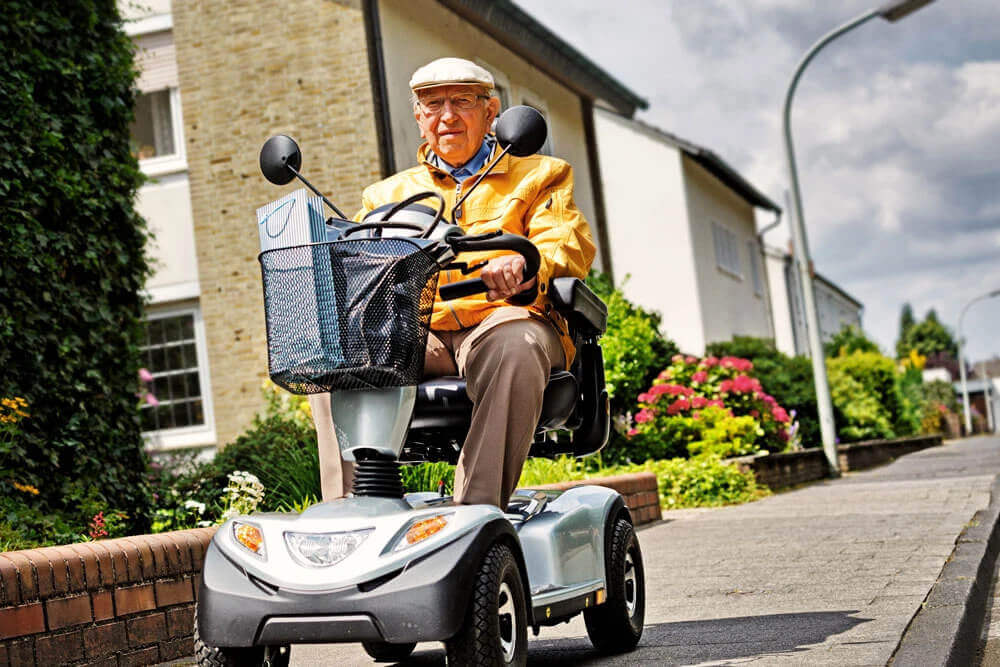 10 Best Mobility Scooters 2021
If you are in need of a mobility scooter or know someone who is, we have the best ones picked out for you.

The mobility scooter is like a mix between a wheelchair and a Vespa. This motorized device allows users to navigate both indoor and outdoor surfaces easily when walking isn't an option.
Since some insurance policies will cover the cost of a mobility scooter to eligible users, but many are limited to entry-level models that are pre-approved by the insurer.
If you aren't necessarily limited to specific brands or models and would like to try out some different brands, which ones are worth considering?
In our guide, we will show you how to select the best mobility scooter for your needs and budget. See which models made the cut and what our experts have to say about the top three.
Top 10 Mobility Scooters Ultimate Table
Details to Consider
To narrow down the options, we suggest you start by looking at the weight limit, drive distance, and the maximum speed.
Weight Limit – Make sure that the scooter can handle the weight of the person who will be riding it.
Drive Distance – How many miles is it expected to take the passenger on a fully charged battery? If the scooter is used for 8-10 hours a day, then aim for one that goes at least 20 miles.
Maximum Speed – The majority of mobility scooters max out at 5 MPH; however, some outdoor units will go much faster and are ideal for those who need to travel longer distances.
Consider the Wheels
When it comes to the wheels, you need to find out if they are safe for both indoor and outdoor use.
Some wheels that do better on outdoor surfaces will leave scuff marks on indoor flooring, so if you will be using your scooter to go shopping or in your home, be sure you check the wheels.
Also, consider the number of wheels that the scooter has.
3-Wheel Scooters – Are great for indoor use and for heading over smooth surfaces. They also offer you a tighter turn radius.
4-Wheel Scooters – Are ideal if you will be heading over rough terrain or if you need a sturdier base that offers better weight distribution.
Transportability and Assembly
If you need to travel with your scooter or be able to transport it by bus, train or car, then transportability and assembly are also important to consider.
Will the scooter break down easily and fit in a vehicle? If so, how much physical strength is needed to disassemble it?
Remember that larger units will have to be transported intact, which means that you might need to purchase a ramp or vehicle lift.
Lifts attach directly to the back of your vehicle where you secure the scooter and ramps will allow you to drive the scooter up into a pickup bed or onto another surface for transport.
Top 3 Best Mobility Scooter Reviews
Drive Distance: 13.5 miles
Maximum Speed: 3.7 MPH
The Transformer is probably the best mobility scooter on our list if you travel often. It only weighs 54 pounds when the battery is attached and storing it is incredibly easy. It comes with a handy remote control that allows you to fold and unfold the scooter at the touch of a button.
The seat width is 15 ¾ inches, and it is 14 ¼ inches deep (front to back). You can adjust the handlebar to three different positions, and the wheels can handle a variety of terrains, including indoor surfaces without leaving scuff marks. You will also appreciate how stable it is since it has four wheels.
Not everyone needs a scooter this light or travel-friendly, and while it is very easy to use, we worry about the electrical components on the fold option. The scooter comes with a 12-month in-home service contract, and you might need to use it if the folding mechanism goes on the fritz.
Drive Distance: 12 miles
Maximum Speed: 4.7 MPH
Pride Mobility is a popular brand in the mobility scooter world and priced just above the entry-level models. It is ideal if you are interested in upgrading from a simpler model or if you want something a little more heavy-duty than the previous model.
The Go-Go Sport 4-Wheel model features a 17-inch square seat, a turning radius of approximately 50.5 inches, and weighs about 99 pounds when assembled.
It does require a bit more effort to disassemble this scooter, and it separates into five pieces when ready to use. The process is rather straightforward, and most users find it to be quite easy.
For everyday use over a variety of terrains, a scooter like this is ideal.
To see a full overview, check out their video below.
Drive Distance: 9 miles
Maximum Speed: 4.25 MPH
If you are looking for a model at entry-level pricing, then consider Drive Medical's Scout model.
The seat is 16.5 inches wide, and it also breaks down into five pieces like the Go-Go Sport. It is incredibly easy to operate, making it the go-to choice for users who lack strength in the hands and arms or who have limited dexterity.
In this price range, you can't expect the same level of performance and overall quality as the more expensive models, but if you are a first-time scooter owner, it is ideal. You can always sell it and upgrade to something better once you get a feel for the things you like and dislike about mobility scooters.
Check out both the 3-wheel and 4-wheel models in their video, and consider the 3-wheel model if you need something specifically for use indoors.
WRITTEN BY

I grew up working on my own cars and motorcycles and 15 years later I love still getting my hands dirty.