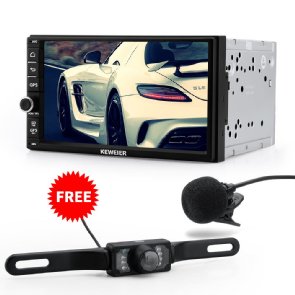 10 Best In-Dash Navigation 2021
An intuitive and responsive navigation system fitted to your vehicle's dash offers so much more than providing navigation – something a portable unit doesn't do....

An intuitive and responsive navigation system fitted to your vehicle's dash offers so much more than providing navigation – something a portable unit doesn't do. It enhances the stereo experience by offering better compatibility across mobile devices, Bluetooth connectivity and much more. The market is flooded with navigation systems and it is important to focus on what suits your needs best and avoid getting confused by the noise around.
We have compiled this buying guide to help you identify the essential features that will ease the decision making process. Also, we have a table of top ten products (and reviewed top 3) to make sure you pick the best in dash navigation unit for your car, SUV or truck.
Things to Consider
Here are a few things to consider as you compare and contrast the navigation systems.
Screen Size. In-dash navigation systems vary from 4 inches to 7 inches in size. Unlike portable navigation systems, you don't have much choice in terms of in-dash navigation devices as it is dictated by the slot available on your dash.
Pre-Loaded Maps. A number of devices come pre-loaded with maps of The USA, or that of major American states, with lifetime free updates. This is a crucial feature if you frequently travel across states, as you no longer have to depend on your phone's GPS all the time.
Restriction Based Routing. This is an important feature if you are looking to get a navigation unit for the dash of your truck. Navigation with vehicular restriction informs you the maximum width, height and load related restrictions, which saves time, money and effort.
Top 10 In-Dash Navigation Systems Table
Buying Information
Garmin has aced the portable navigation game but when it comes to in-dash navigation units, there are quite a few fiercely competitive players. Consequently, navigation systems are continuously being improved and keeping an eye on the following features would keep you in sync with the game:
Service Information. If you regularly go for long drives across states, this is a great feature to have in-built in your navigation device. It contains information about vehicle service points, fuel stations, motels and places of convenience, which would come in handy when you are driving through the unknown.
Voice Support. While driving, looking at the dash for direction every few minutes is both distracting and dangerous, as it takes your attention off the road and on highways, one small mistake can prove fatal. Voice assisted navigation devices lay these concerns to rest, as you no longer have to look at your device repeatedly.
Stereo integration. When you searching for a navigation system that fits in your vehicle's dash, you would want a seamless integration with your music system, Bluetooth and rear camera so that you have one comprehensive solution for all your entertainment needs rather than having to install them separately.
Top 3 Best In-Dash Navigation Reviews
First things first, it would fit most of the dashboards unless you own Audi/Volkswagen/BMW. The attachments are pretty standard (ISO) and adapters are available easily, if required.
Once fitted, it gives you everything you can ask of an in-dash navigation unit, making it the best in dash navigation we reviewed. It offers the complete solution you expect, which means you no longer have to worry about Bluetooth connectivity, AM/FM receiver, GPS based navigation and rear camera for parking assist! Android Lollypop is a joy to work with on the highly responsive, 7" HD display sits prominently on your dashboard, available at your service at a tap.
It is a feature loaded navigation unit that does the job well and offers great value for money which will make your drives more enjoyable and accurate.
Atoto has done great customization over stock Android to come up with this highly intuitive navigation unit. If you can live without a build in CD/DVD receiver, this one won't give you any reason to complain.
Once you start your car, it comes to life almost instantly – you no longer need to spend those frustrating seconds waiting for the music to kick in. Addition of Google's Voice Command App further enhances its utility, making it one of the most user friendly and responsive units around. A 128 GB Micro SD storage and fast turnaround for after sales support make it a real winner.
If you are looking for an in-dash navigation unit for your car and don't want to spend a fortune, this one should be your clear favorite.
It is tough to keep Pioneer out of the car stereo/navigation unit game and the AVIC-6100NEX is here to challenge the top players, not just to make up the numbers.
At 6.2", it might not be the largest screens around but if you own anything other than a full sized truck, it should do the job just fine. The touchscreen monitor carries forward Pioneer's legacy in terms of quality and the GPS unit works flawlessly well. Add to it a host of modern features such as CD/DVD player, HD radio tuner and amplifier – working well together to pose a strong challenge for supremacy.
If you would be playing a lot of audio and video formats other than using it for navigation, this has to be your top choice as it offers a host of compatibility and connectivity options to provide uninterrupted entertainment. However, it does come at a price!
WRITTEN BY

I grew up working on my own cars and motorcycles and 15 years later I love still getting my hands dirty.