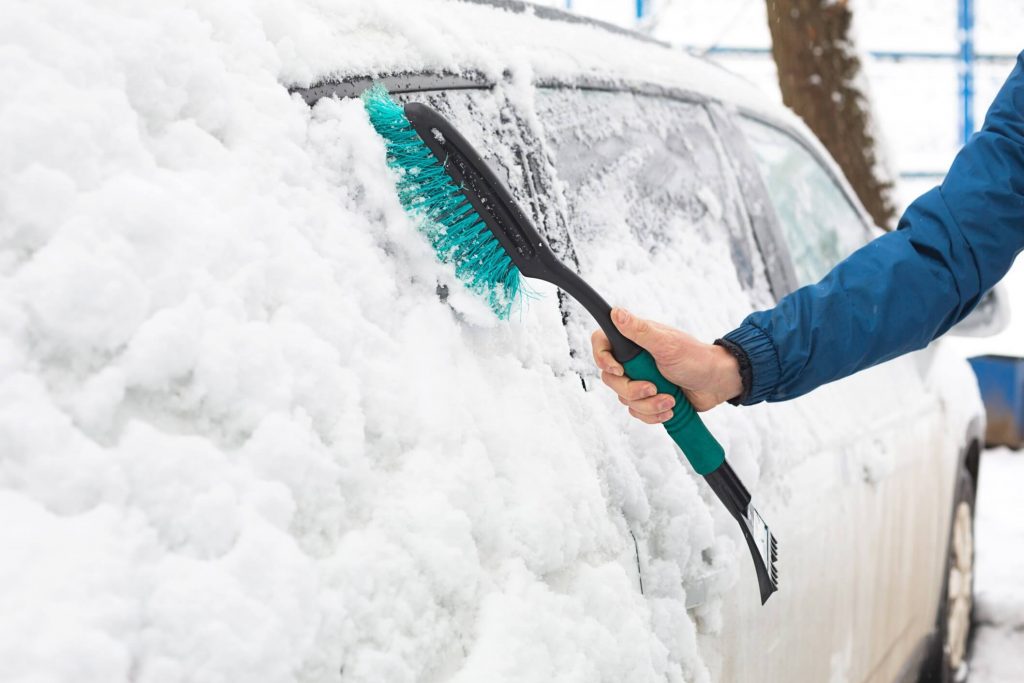 6 Best Ice Scrapers 2021
Iced over windows are a pain. Here are the most useful ice scrapers we found.

We're guessing that you're out searching for the best ice scraper because the one you bought at the 99-cent store lasted less than a week. Are we right?
While it may seem like a very insignificant purchase for your car, a reliable ice scraper is everyone's dream the moment they step in front of their car on a cold winter's morning with no way, whatsoever, to remove the ice and snow.
Rather than opting for the cheap, low quality scrapers, it's worth a few extra bucks to get yourself a good one, and in our guide below, you can compare and contrast the top products in order to find one that matches your needs and budget!
What to Keep in Mind
Handle Comfort. You will dread seeing any kind of ice on your car if you have a flimsy and uncomfortable scraper. The best ice scraper is the one that has a cushioned handle that will repel any moisture it comes into contact with.
Additional Tools Included. An ice scraper is necessary to have in your car but ice is often accompanied by snow or can come in thick layers. To help with these additional issues, look for a scraper that includes things like a brush or ice crusher.
Reach. This is one of the most important features you could look out for. If you have the space in your vehicle, we recommend that you buy an ice scraper that is sturdy as well as lets you reach further with less effort. This, however, should not compromise the strength of the scraper. Choose a scraper that is at least 8" long for the best results.
Top 6 Ice Scrapers Comparison Chart
What to Look for as You Shop for a Quality Ice Scraper
An ice scraper needs to be effective and perform well when you need it to most. This means that the quality of the materials used to make the scraper are important.
The scraper itself should be made of heavy-duty plastic that can glide under ice and release it from the windows of your car. The shaft should be made of durable metal.
You want to be able to put your weight behind the scraper when necessary without worrying that the shaft will bend or break. It can also be made of hard plastic but this should be tested to ensure the flexibility is not excessive.
Top 3 Best Ice Scraper Reviews
The Hopkins Subzero 166121 ice scraper is the most compact and most effective tool you could have in your car in the winter. This is really something you do not want to be caught without because it gets under the ice on your window and also helps to break it up when it is thick.
The ice crusher is a great additional feature on this scraper as it makes it an all in one kind of tool. The entire thing is made of durable plastic except for the foam cushioning.
This means that the scraper as a whole is really lightweight but is also unwavering when you need to really scrape through some thick ice.
If you have room in your car for a longer ice scraper, then definitely invest in the Hopkins 532 Mallory. This scraper has the length to reach across the windshield so you don't need to keep walking around your car to get to all of the ice.
This is also a great tool because it includes a brush to wipe away any of the snow that might have accumulated. The brush is made of stiff bristles so it really can push through heavy snow to make way for the scraper to work.
Even though this scraper is super effective, it doesn't leave any marks or any residue behind.
The Desired Tools Premium Ice Scraper is one of the most durable and compact tools you can have in your car. If you don't have a lot of space for extra tools in your vehicle, then this is the best ice scraper you could have.
The blade itself is very sharp and can remove any kind of ice that may be built up, but it does so without leaving scratches on the window itself.
The features that set this scraper apart from cheaper versions of the same size are the effectiveness of the scraper and the thickness of the handle.
WRITTEN BY

I grew up working on my own cars and motorcycles and 15 years later I love still getting my hands dirty.