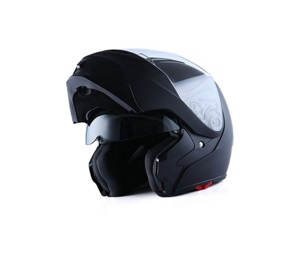 6 Best Full Face Motorcycle Helmets 2021
While full face motorcycle helmets may not be required by law they have been proven time and time again to be the safest options for...

While full face motorcycle helmets may not be required by law they have been proven time and time again to be the safest options for riders. In fact, not only will this style of helmet protect you from injury but they also offer some of the best shelter from the elements too.
It becomes difficult when you have to decide on which helmet is the right one. This is mainly due to the differences between helmets being quite subtle. With the safety standards that must be met it is impossible that any helmet you buy will protect you any more or less by a noticeable amount. Instead you must look at smaller details.
To assist you in making your choice we have included the top full face helmets on the market right now and which ones provide the best value for money with as many extra features as possible.
What to Look for in Your Helmet
Navigating Price. Even in our list of the best full face motorcycle helmet options we have quite a range of prices. When it comes to helmets it isn't always that the most expensive is the safest option. Often this comes down to the style of the helmet and you end up paying the higher price tag for aesthetics. It is worth getting to know the actual specifications of each helmet before looking at its cost.
Get The Size Right. With a full face helmet the fit is even more crucial than other helmets that only protect the top of your head. Too tight and the helmet will cause a huge amount of discomfort over time and too loose and it will be practically useless in an accident. Make sure you carefully measure the size you need before making a purchase.
Looks Are Still Important. Often with safety equipment riders immediately forget that this will be part of the overall style. Make sure your helmet is one that you would want to be seen in. It seems like an obvious point but there are countless riders that focused on price and features and walked away with a helmet they ended up hating due to the way it looked.
Top 6 Full Face Motorcycle Helmets Complete Chart
Finding a Full Face Motorcycle Helmet for You
While the difference between helmet styles might be quite small at times there are three major categories that every model falls into. Getting to know these styles will help you to decide which is the best full face motorcycle helmet for you. These groups are:
Street. Designed to meet the needs of urban street riders. These helmets provide the best protection and are manufactured to meet the challenges of high-speed riders.
Dirt. The immediately noticeable shape of the dirt bike full-face helmet is designed to offer full eye and face protection for those riding off-road.
Touring. These helmets provide comfort in all kinds of conditions, which is necessary for those going on much longer journeys.
Top 3 Best Full Face Motorcycle Helmet Reviews
The look of the 1Storm is unrivaled especially when you consider how comfortable it is and how easy it is to get on and off. It is easy to control all of the features like the visor even with gloves on.
This helmet locks shut and has a nice chin strap which mean that it doesn't move around when it is being worn. Considering all of this and the price you cannot go wrong when investing in this helmet.
The quality of the HJC CL-MAX and the additional features alone make it well worth the price. Adding on top of that the fact that it is DOT approved makes buying this helmet a no brainer. Even though this is a full-face helmet, it is easy to stop and remove the visor to take a drink or even to use the features like the Bluetooth. The helmet fits as it should which is often not the case with most full-face options.
This helmet works perfectly as a traditional motorcycle helmet or for using with a smaller vehicle like a scooter or moped. It is true to size, it is easy to open and close the vents and it is also easy to adjust the visor. The visor is not tinted but this issue can be remedied with a pair of sunglasses under the visor that work without compromising the integrity of the helmet as a whole. The chin straps are also secure but easy to remove in a hurry.
WRITTEN BY

I grew up working on my own cars and motorcycles and 15 years later I love still getting my hands dirty.