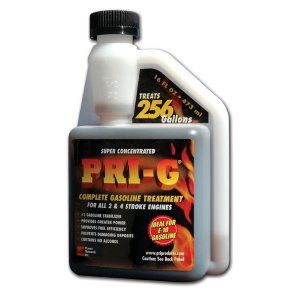 10 Best Fuel Additives 2021
The world of fuel additives can be extremely confusing. There are a huge number of options and each one has a different effect on your...

The world of fuel additives can be extremely confusing. There are a huge number of options and each one has a different effect on your vehicle. This often makes buyers wary and they avoid looking at additives at all.
As additives provide so many benefits for your car, it is a good idea to get to know the options and which ones would suit your vehicle. To help guide you through the products we have collected together the best fuel additive options and all of the information that you could need about making the right choice.
Things to Think About
Before you check out the top ten available fuel additives, it would be a good idea to go over some of the most important things to think about when making your final choice.
It should be remembered that diesel generally needs more additives, as it has more properties that need to be protected. It is best to get an additive that is specifically engineered for diesel vehicle needs.
Ideal Timeline. The bottom line is that there is no perfect schedule to using additives and it varies quite a lot depending on who you ask. If you want to guarantee that you will get the best possible results then you should always follow the recommendations on the label of the fuel additive that you buy.
Top 10 Fuel Additives Complete Table
Understanding the Fuel Additive Options
The reason that fuel additives can cause a great deal of confusion is that there are a wide range of different properties that the additive focusing on. The ideal way to use an additive is to address the specific problem that you have been having with your vehicle.
Here are some of the most common and why you should purchase products that provide each specific treatment:
Fuel System Cleaner. As one of the highest quality of fuel additives, fuel system cleaners provides a full cleanse of all buildups. This should be added for the most severe problems and at the same time as an oil change.
Gas Treatment. This additive focuses on the overall quality of the fuel. It does this by removing any deposits or water. The result of this is an increased fuel economy and most of the time this type of additive also provides anti-freezing qualities. A gas treatment is usually one of the lowest in prices and you should add this before filling up your tank.
Fuel Stabilizer. Fuel is constantly breaking down from the moment it is pumped and as such it is important to stabilize it, especially if you are aiming to store the fuel for a long time. Use this additive to protect your tank and system from corrosive elements.
Fuel Injection Cleaner. Use this additive to remove any clogs in the engine's fuel injector. This should be used in the fuel tank when you are changing the oil.
Top 3 Best Fuel Additive Reviews
The PRI Fuel Stabilizer is the best fuel additive because it works when you need it to and how you need it to, at all times. This is also a bottle that comes in the perfect size to use for one vehicle, though getting more would be recommended if you are maintaining and protecting the cars of your entire family.
It is recommended to use this additive on older vehicles or to add to older gas that you might have around. Using this product almost guarantees that when you do use the fuel, it will immediately work without issue.
You will notice that the acceleration you get using the gas with this additive is better and smoother overall. This makes this product a great buy to enhance overall performance.
When you leave gas in a lawn mower or any kind of older vehicle, using the STA-BIL 22214 can take that fuel from being less than desirable to being usable. It can even improve the overall performance of the machine that it is powering.
It is recommended to add a small amount at a time to the fuel until you reach the right ratio. This is a stabilizer that obviously works better with fresh gas but it can help you get more life out of gas that hasn't been used in a long time.
Using this product will make things better for your vehicles and machines and will also provide much better performance. Even this small bottle will get you through a lot of fuel when you add just a little at a time.
Lucas 10013 is a great go-to additive for when you need something to increase the amount of power that you are getting and the miles per gallon too. This is the main feature and the best reason to invest in this product over others.
It will save you money as it works and will even clean and keep your entire fuel system lubricated too. This means that your car's system will be healthier, as any unnecessary build up or excess is completely avoided.
You will quickly notice a difference in how smooth the engine feels when you drive. This is obvious no matter how much fuel you have in your tank and what the percentage of the additive is.
WRITTEN BY

I grew up working on my own cars and motorcycles and 15 years later I love still getting my hands dirty.