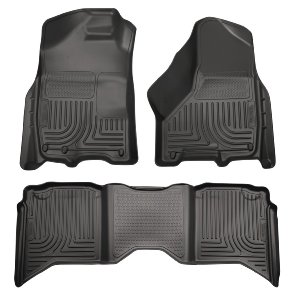 6 Best Floor Mats for Trucks 2021
Owning a truck usually goes hand in hand with a wide range of outdoor activities that put the exterior and interior of the vehicle through...

Owning a truck usually goes hand in hand with a wide range of outdoor activities that put the exterior and interior of the vehicle through a number of challenges. This is why every truck needs a set of high quality floor mats to offer all the protection it can get.
While it is obvious that a truck needs floor mats it can be difficult to know which ones offer the best protection and how to decide between the thousands of options. To make things easier we have collected together the most effective floor mats on the market and provided some unbeatable tips to help you decide.
Things to Consider
The Type of Mats. Every truck owner knows they can come in all shapes and sizes. While there are several trucks that don't come with a passenger bench, this is certainly the kind of truck that is most in need of heavy duty mats. All of the products on our list include two individual front mats and one long back passenger mat.
The All-Inclusive Option. There are many manufacturers that will also sell matching seat covers for their floor mats. This is especially useful for those buyers looking to protect their truck but also to maintain a pleasant overall style.
The Right Fit. While all of the best floor mats for trucks that we have included are designed for the same style of truck this doesn't mean they will fit every model. Make sure you check the measurements and if in doubt opt for one of the universal fit mats or the one that provides flexible placement.
Top 6 Floor Mats for Truck Overview Table
The Main Feature of the Best Floor Mats for Trucks
When you are buying floor mats for a regular vehicle, features such as style or color may matter but this isn't the case when it comes to trucks. The most important aspect for truck floor mats is the protection that they offer.
Here are some things that you should look out for when you are deciding between the best floor mats for trucks:
Thickness. There will definitely be a time when something will cut into the mat. By having a sufficiently thick rubber material you will avoid any damage to the floor underneath.
Easy-To-Clean Channels. All of the mats on our list have channeled grooves that help with the collection of snow, dirt and water but they vary in how easy they are to clean. Think about how often you will be doing this and choose the one that looks like it would cause you the least amount of wasted time.
Slip-Proof. You want to know that the mat will stay in place in all weather and no matter how old it is. Check out each individual mat's anti-slip technology and decide which one would suit your truck.
3 Best Truck Floor Mats Reviews
One of the greatest things about the Husky Liners 99001 WeatherBeater floor mats is that they can be used for all different kinds of trucks. You can specifically order them for any make and model, which is great for any drivers that get attached to how well they stand up to the daily wear.
The fit of these mats is so secure that you never have to worry about anything getting under them and ruining the actual carpet in the cab.
These are a great set of mats that can be used throughout the year. They collect mud and snow as well as all of the dry dirt and sand that gets dragged in.
Whether you use your truck for work or pleasure, the Dodge Ram 1500-Weathertech Floor Liners will keep your floors protected from anything and everything.
The fit of these mats makes them easy to install and keep in place. When you want to remove them for a cleaning, the process is really quick and simple too. You really can just hose these mats down.
Even with the easy-to-clean surface, you can step on these mats with bare feet comfortably as the material is soft enough to provide comfort.
Keeping your cab floors protected against spills and dirt is what having the BDK All Weather Extreme Heavy Duty Rubber mats is all about. These are made of a long-lasting material so you can buy these mats and forget about having to replace them for quite a few years.
These are universal mats, which means that they can fit into almost any vehicle something that makes these the best floor mats for trucks overall. This is a great option when you consider how expensive the brand-specific mats can be.
You can keep your floors protected and clean without spending too much on something that has the purpose of getting dirty.
WRITTEN BY

I grew up working on my own cars and motorcycles and 15 years later I love still getting my hands dirty.