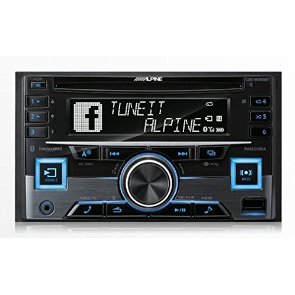 6 Best Double Din Car Stereos 2021
A good stereo system in your car helps out in many ways. Whether you are on a long drive or short, with friends or alone,...

A good stereo system in your car helps out in many ways. Whether you are on a long drive or short, with friends or alone, a good double din stereo keeps the mood upbeat and enjoyable. Selecting a suitable double din stereo for your car can be a long drawn, tiring experience – given the number of options and reviews available over the Internet.
This guide helps you find your way through – shortlisting the most relevant ones and feeds the basic information you need to buy the best double din car stereo.
Top 6 Double Din Car Stereos Table
Buying Information
What Is DIN? DIN is a German standards organization that set original standards for car stereo systems. It is relevant even today. For a single DIN face unit, front faceplate would approximately measure 7 X 2 inch and for a double DIN, the measurement is 7X4 inch.
How Do I Find out If I Need a Single or Double DIN? To put things straight, you never need a double din. If your car came with only a single DIN head unit, a double din won't fit. If it came with a double din unit, you have the option to replace it with double DIN or single DIN.
Isn't Double DIN Better Than Single DIN? Quality wise, there is absolutely no difference. It's got more to do with the size than anything else.
Top 3 Best Double Din Car Stereo Reviews
There's nothing like a car stereo that has good appearance, performs multiple functions, is easy to set up and integrates seamlessly with your phone. It is a combination of these features that makes Alpine CDE – W265BT the best double din car stereo.
Setting it up is (almost) as easy as play and go, though you might have to go to the hardware store and get longer screws. Once you power it on, head unit is lit up by pleasant, customizable lighting. Unless you are an audiophile to the core, it comes with way more settings than you would require and delivers quality sound. Media streaming and Bluetooth connectivity – two of the most used functions – did not give any trouble. Phone calls were crystal clear and it pairs automatically to your phone whenever you get in your car – making driving pleasant and safe.
Menu is designed logically and allowed us easy access to play with different controls, making it icing on the cake. Overall, it is a great performing piece (without bells and whistles) that doesn't require you to pay through the sky.
If you are a techie who likes his car stereo to be loaded with the latest options technology has to offer, Keweier has this mini-computer at your service. What's better – it comes at virtually half the price premium brands charge. Given the number of parts it comes with (also includes rear view parking assist camera!) and the fact that your dash may need modification to fit it in, we strongly recommend getting a professional to set it up for you – the experience would be worth the extra money!
The stereo works great and touchscreen is a joy to work with. It has all the connectivity options you expect of a car stereo – GPS navigation (antenna included), Bluetooth connectivity, internal Wi-Fi for hotspot based phone connectivity, 2 USB inputs and phone mirroring (iPhone supported). 7 inch HD capacitive touchscreen loaded with Android Lollipop offers a great interface to access your connected devices, camera, parking assist stream from rear camera and many more.
If you're ready to ignore its frustrating tendency to factory reset every week, it is a great buy for the price and features.
It is difficult to keep Pioneer out while discussing best double din stereo for cars and the AVH-280BT underlines the belief. Through this, Pioneer offers a product that does the basics right rather than one that offers hundred redundant/rarely used features for the average Joe.
You usually look for a double din to complement your car stereo set up, offer a display panel for rear camera and easy access to navigation. Pioneer has packed enough for it to tick these boxes. If you are on a budget, you really don't need to pay for customized connectivity software when you can get the work done through a simple USB cable and Bluetooth pairing.
Resistive touchscreen feels a bit of letdown, as almost all competing products offer a capacitive one. If you are ready to put this aside, Pioneer would not let you down in terms of utility and performance.
Hope this information helps you choose the best double din car stereo. Have a safe, enjoyable, musical drive!
WRITTEN BY

I grew up working on my own cars and motorcycles and 15 years later I love still getting my hands dirty.