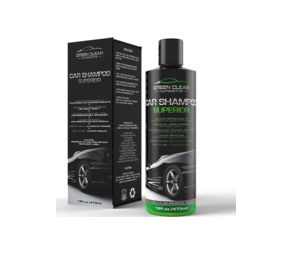 10 Best Car Wash Soaps 2021
Keeping your car in tip top shape isn't just about changing the oil and maintaining the engines, but about maintaining the look of the car...

Keeping your car in tip top shape isn't just about changing the oil and maintaining the engines, but about maintaining the look of the car as well. In order to do this, car owners will need to not only wash and wax their vehicles but also use the best car wash soap solutions in order to achieve the best results.
This soap should clean the vehicle without leaving any unsightly residue behind and without removing any of the necessary moisture from the car's surface. Car enthusiasts will already be familiar with the work that goes into maintaining the outside of a vehicle, but for those that want a little more information about ideal car wash soap options, we have provided a guide to help.
Things to Think About
Having a car that always looks like you have just bought it will give you instant sophistication. To achieve this look properly, you will need to buy soap that is up to the job of providing thorough results. To help with this, here are some things to look for and those to avoid:
Avoid Using Kitchen Dish Detergent. While this soap may be good at cutting through grease, it is also good at cutting through car wax and the top clear coat of the car that protects the paint.
Avoid Using Soaps with Phosphates. This chemical is very harmful for the environment and will have a negative effect when you use is as part of a car wash soap.
Go Natural. A solution made with vegetable soap is gentler and will make the surface of the car shiny and clean without harming the environment.
Everything Should Be More Expensive. When you choose to invest in a more expensive car, you will need to spend more to keep the vehicle properly maintained, including spending more on the best car wash soap.
While you may be able to find cheaper soaps for basic cleanliness, a pricier one is often required for pricier vehicles.
Top 10 Car Wash Soaps Complete Table
Tips for Buying Car Wash Soap
If you are looking to keep your vehicle beautiful by buying the best car washing soap solution then you should consider the following before making your purchase and committing to a higher level of maintenance.
The cheapest soap to use may be kitchen detergent but the damage that it can cause is not worth the savings. You should spring for the best car wash soap and have the appearance of your car last much longer.
Using a nice soap should be done in conjunction with a wax. These are both easy to use and will together create the showroom finish that you want.
The wax that you use with the soap of your choosing should be specific to the color of the car that you have.
There is not specific car wash soap that is right for every car or one that is perfect and sets the standards in the industry. There are soaps that do a better job than others but these can vary in different ways including in price.
If the soap you choose is gentle on the surface and does not remove any wax or coatings then it is safe to use on your car.
Top 5 Best Car Wash Soap Reviews
Cleaning your car is an important part of preserving the new and fresh look for as long as possible. The Green Clean Automotive is made of natural bio-based ingredients that are gentler on the car while also making for an effective washing solution.
The high quality ingredients of this cleaner provide protection for the car against UV rays while also getting the car clean. This cleaner is great for car owners that are more particular about what they use to clean their vehicle.
This solution will not disturb the paint job in any way and will rinse off easily without leaving any residue behind.
The Meguiar's G17748 lifts grime and dirt in a way that prepares the car for the wax and polish to follow without any abrasion. This solution actually does have elements of wax that make it usable even when there is no time for a complete waxing job. Using this wash means having a car that is left clean, shiny and looking brand new. When the car is left to dry after being washed, car owners will get the best results as there will be no streaks or residue left behind.
The Meguiar's company is known for making great car care products and this car wash soap is no different. This product should also last for many washes when you consider one bucket of washing solution and water mixed together only requires about half a cup of the soap. Car owners can rely on this product to get the job done and even protect the vehicle in the process.
As Optimum NR2010Q No Rinse Wash and Shine is more than one car care product rolled into one, it is more effective in terms of time and cleaning. This blend is the only one of its kind, providing a cleaning solution that releases the dirt that is stuck to the car while preserving and protecting the paint underneath.
The shine that this solution leaves behind is also something that will make your car look better for longer. This solution is perfect to freshen up the look of a car on a long journey when there is no water available to use a simpler car wash soap that would require rinsing.
Duragloss 901 Car Wash Concentrate shines and cleans all at the same time without leaving any spots or streaks behind. This soap creates a sheet effect that leaves the vehicle clean, shiny and dry. This soap only ever cleans and leaves a nice finish without removing any other sealant that you have applied.
The price and the volume of this car wash soap are well worth the stellar results. The glossy look will last for at least a week if not longer depending on the season and the conditions. Even this glossy finish is unusual considering this is a job generally left for the waxing and polishing processes.
Removing dirt is what Mothers 05554 California Gold Car Wash does best. This cleaning solution has a balanced pH level to protect the car from harsh chemicals. This solution cleans away the dirt and leaves the car shiny and looking like new without removing any of the wax.
This cleaner can prevent the paint colors from becoming dull and can be used without leaving any residue behind. The soap even smells pleasant, which makes it more likely that you will wash the car more often.
It also does not take a lot of soap to execute a complete clean of the car. With only a little soap mixed with water, the car will be left looking fresh.
WRITTEN BY

I grew up working on my own cars and motorcycles and 15 years later I love still getting my hands dirty.