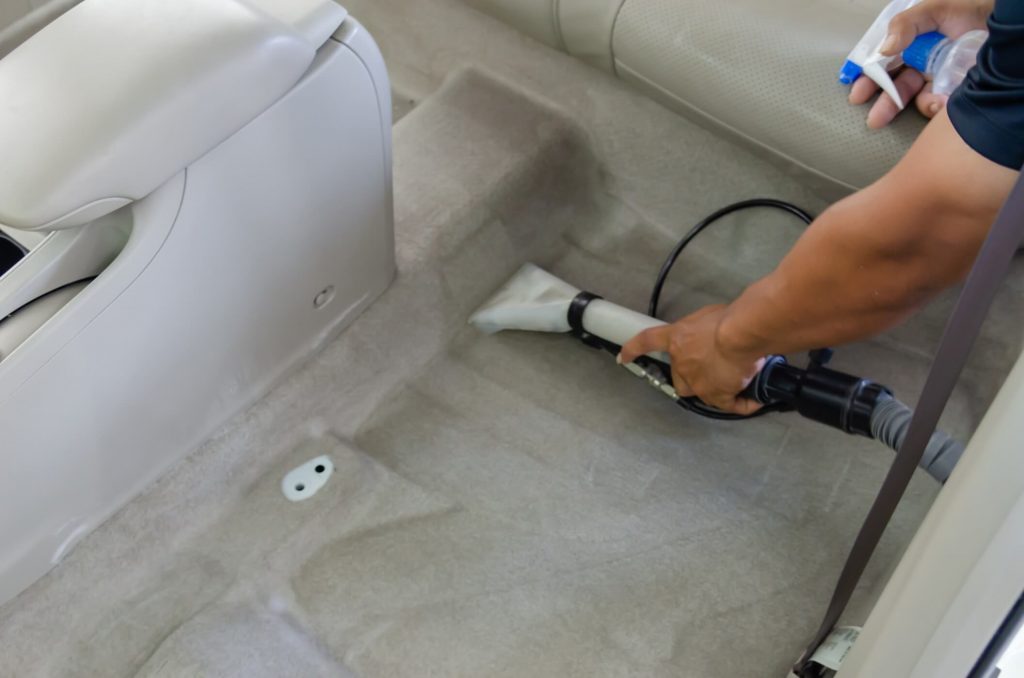 10 Best Car Upholstery Cleaners 2021
For when you vehicle gets a little dirty, here are the bests upholstery cleaners we found.

We all know that over time and with regular use, the upholstery in our cars can get rather dirty; especially for those of us who have pets and kids!
Keeping the upholstery of your car clean can be tricky and some stains can be very difficult to remove, and sometimes you might wonder if they can even be removed at all. The good news though is that there is an excellent range of cleaners available on the market that can help you bring your car back to its original glory.
With so many products on the market, it can be difficult to know which one you should buy, so we have created this handy guide to help you find the best car upholstery cleaner for your needs and budget.
Top 10 Car Upholstery Cleaners Ultimate Chart
What to Look for When Choosing Upholstery Cleaners
Perhaps the most important thing that you need to take into account when choosing an upholstery cleaner is whether or not it is suitable for the surface you wish to clean. Some cleaners contain chemicals and other ingredients that might be harmful to delicate surfaces, so check first before buying to be sure.
The best modern cleaners, except some leather cleaners, tend to use a foaming action that lifts dirt and grime away from the surface you are cleaning. Some also come with their own applicators to make the cleaning easier and more effective.
Some of the best cleaners available on the market are great for general cleaning, while others are best for cleaning smaller areas with ground-in stains. There are also some products that are made specifically for particular surfaces. Leather cleaners, for example, tend not only to clean the surface of the leather but also help to treat and nourish it, helping to return it to the condition it was in when new.
Also look out for products that remove odors if you have pets, while some upholstery cleaners can even be used in cleaning car tires, rims and can also be sued around the home. All-purpose cleaners general come in large quantities meaning you can use them to get a lot of cleaning done.
Top 3 Best Car Upholstery Cleaner Reviews
As the name suggests, this all-purpose cleaner is suitable for cleaning a wide range of surfaces and is considered to be one of the best car upholstery cleaners available. While it is ideal for use on car upholstery, it is also suitable for cleaning other parts of the car and is also ideal for use around the home and garden. Sold per gallon, the cleaning product needs to be diluted in water before use so it provides enough product for plenty of cleaning jobs.
This product can handle general cleaning tasks while also being strong enough to handle the tough stains that many other cleaners fail to remove. Even areas that have ground in dirt such as car mats can look as good as new after cleaning with this product, while the same product can still be trusted enough to use on leather in lower concentrations. The flexibility of this product along with the plentiful quantity makes it popular among professional car detailers, or just people with a lot of cleaning to do.
If you are looking for an upholstery cleaner for your car that can handle general cleaning as well as dealing with tougher stains, this all-purpose cleaner could be exactly what you are looking for.
Leather can begin to look old and worn after some time, but the right product can help to rejuvenate it to help make it look as good as new again. Chamberlain's Leather Milk not only cleans your car's leather upholstery, it also nourishes and helps to restore it to the same condition it was in when new. It is also excellent at removing stains and scratches.
Made from completely natural products, this cleaner is free from chemicals and smells great. It leaves a natural finish to the leather without stickiness or greasiness. It comes with a free applicator and is ideal for use on upholstery for your car as well as a range of other leather products such as shoes and bags.
If you are looking to clean and rejuvenate the leather upholstery in your car or any other leather goods you may have, Chamberlain's Leather Milk could be exactly what you need.
BISSELL Stain Pretreat for Carpet & Upholstery is ideal for use in the car and around the home and specializes in dealing with heavy stains. It can remove even the most ground in of stains and also helps to remove any persistent odors. This stain remover is made in the United States and conforms to North American electrical standards.
Simply spray on, wait for 10minutes and then wipe off again. Deeply embedded sprays may require another 2 or 3 sprays before they are completely gone. Note that while this cleaner is ideal for removing ground in stains, it is not suitable for general cleaning so you may need other products and equipment for cleaning larger areas.
If you want a spray that is easy to use and really helps to remove the stains that other cleaners leave behind, BISSELL Stain Pretreat for Carpet & Upholstery could be just what you have been looking for. Where tough stains are concerned, it is considered to be among the best car upholstery cleaner products available.
WRITTEN BY

I grew up working on my own cars and motorcycles and 15 years later I love still getting my hands dirty.