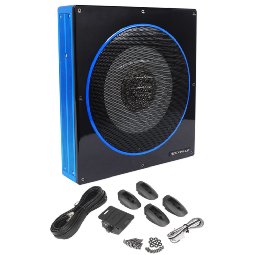 10 Best Car Subwoofers 2021
Nothing compares to having an amazing sound system in your car. One of the most essential parts to a car sound system is the subwoofer,...

Nothing compares to having an amazing sound system in your car. One of the most essential parts to a car sound system is the subwoofer, which produces all of the bass tones and low frequencies. A poor quality subwoofer will break up and produce cracking sounds when the volume is raised. This makes it important to find a quality subwoofer.
However, finding the best car subwoofer isn't always the easiest task. With many different sizes, enclosure types, power ratings and other factors to consider, the shopping experience can get complicated real fast. Fortunately, we're going to make it easy for you to choose one by providing you with the top rated car subwoofers on the market.
Top 10 Car Subwoofers Ultimate Chart
How to Choose Between Car Subwoofers
If you're looking for the best subwoofer for car use, you're going to want to consider a few different factors. Many different aspects can come into play, affecting the sound, depth and overall quality of your subwoofer. We're going to share a few subwoofer shopping tips so you can get your hands on the best car subwoofer available within your budget.
Enclosure. There are many different types of sub enclosures. Sealed enclosures provide the most accurate and true-to-life sound quality. On the other hand, bandpass and ported subwoofer enclosures tend to produce more volume, which is ideal for those seeking louder basses.
Power. The power of the subwoofer is what will determine how loud you can play it before it starts cracking up. Keep in mind that peak power and RMS power are two independent ratings. RMS power is the continuous power it can maintain, while peak power is the highest it can reach, but should not be maintained on a regular basis.
Sensitivity. The sensitivity rating is highly important and affects the power as well as the sound quality. A subwoofer with a higher sensitivity rating will require less power than one with a lower sensitivity rating.
Size. The size of the subwoofer will not necessarily impact the power, quality or sensitivity. However, it's incredibly important to consider the size because your vehicle only has a limited amount of space. Large subs can end up taking the entire space in your trunk. However, smaller and more compact subs can still allow you to have a ton of free space in your car.
Where to Place Your Subwoofer
Choosing where you want to place the subwoofer within your car can get quite overwhelming. There are a few different areas that are ideal for a sub. More often than not, a subwoofer will be placed at the rear of the vehicle, which provides a better resonance and overall sound quality. However, some subwoofers are made to be installed within doors, in which case you should place them in the rear doors.
Subwoofers that do not come with an enclosure can easily be places at the rear speaker spot. This is usually just below the rear window, above the rear seats. For enclosed subwoofers, the most common spot is within the trunk. Due to the large amount of space they take up, it's the best possible place to put them. However, keep in mind that by doing so, you will be sacrificing a ton of storage space. If you do not regularly bring people along with you in the vehicle, you can consider placing it on the floor of the backseats.
Top 5 Best Car Subwoofer Reviews
One of the best subwoofers worth getting if you're looking for a space-saver is the Rockville RW10CA sub. This very compact subwoofer and amplifier in one solution is only 2.7 inches thick, allowing you to easily place it under a seat. This allows any car owner to benefit from outstanding bass tones without sacrificing space.
This subwoofer is equipped with a 10" inch speaker that boasts a remarkable 800 watts of peak power and 200 watts of RMS power. With numerous controls available, you will be able to really control the tone. Numerous bass tone controls and tone filters are integrated.
All of the mounting accessories and cables are included, making this an all-in-one sub package that comes with everything you need. If space is an issue or even if you want an affordable sound system, the Rockville RW10CA is certainly worth considering.
One of the top rated subwoofers for car use is the Rockford Fosgate P300-12 unit. This sub is packed with a powerful 300 watts of RMS power and is available at a very affordable price range. This subwoofer is compact enough to fit in any vehicle without taking up too much space.
The 5/8-inch MDF enclosure provides excellent resonance, allowing you to feel like you're listening to your music at live concerts. 12 AWG input terminals are integrated into this class-D car subwoofer.
As one of the best options currently available, the Rockford Fosgate P300-12 is definitely worth every penny. A remote bass-level control is included so you can easily and rapidly change the bass levels. Compact, powerful and simple to install, the P300-12 is definitely worth discovering.
If you're looking for a powerful subwoofer for your car that looks amazing and provides outstanding bass tones, you're going to love the BP1204 by Dual. This subwoofer has a blue illuminated interior with plexiglass coverings, allowing you to see the interior with style.
This MDF enclosure features two 12-inch Dual DS Series subwoofer speakers, which each have a 250-watt RMS rating. Along with the 1100-watt peak power rating, you won't believe how loud and accurate this subwoofer sounds until you hear it in your car.
The enclosure is covered in carpet and is easily one of the best looking subwoofers on the market. If you're looking for style and amazing sound, you know you can't go wrong wit hthe Dual BP1204. This sub offers a quality build that will last for years to come.
Another excellent subwoofer worth discovering is the Bazooka BTA6100 BT Series. This subwoofer is incredibly compact, allowing you to easily place it anywhere in your car without sacrificing too much space.
While this tube subwoofer only delivers 100 watts of power, it's incredibly powerful and offers very accurate bass tones. The on-board 2-channel amplifier makes this an all-in-one unit, allowing you to quickly get it set up and sounding great.
This subwoofer features a 6-inch dual voice coil speaker and a strap so you can securely mount it anywhere in your vehicle. If you're looking for a small, yet highly powerful subwoofer for your car, you're going to love the BTA6100 BT Series sub by Bazooka.
If space isn't an issue and you want to get all of the tools necessary to get started, you're going to love the MTX Audio TNP212D2 Terminator Power Pack. This dual-speaker sub packs a peak wattage of 1200 and delivers an RMS 250 watts at 2 ohms and an RMS 150 watts at 4 ohms.
This subwoofer comes with two 12-inch speakers in an MDF construction that delivers accurate and powerful low frequencies. Aviation grade carpeting covers the exterior of the enclosure along with a "terminator" logo on the front.
This sub comes equipped with a powerful Mono Terminator amplifier, which is simple to install with any factory or after-market radio. If you're looking for a powerful subwoofer that also comes with an amplifier, you're going to absolutely love this complete set offered by MTX.
WRITTEN BY

I grew up working on my own cars and motorcycles and 15 years later I love still getting my hands dirty.