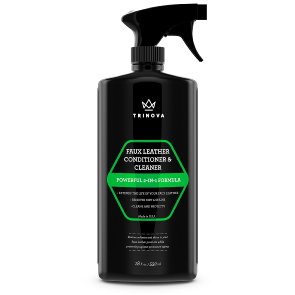 10 Best Car Leather Cleaners 2021
Leather is one of those fantastic materials which if taken care of properly, will last a lifetime. The most notable key words being "taken care...

Leather is one of those fantastic materials which if taken care of properly, will last a lifetime. The most notable key words being "taken care of".
Often the leather surfaces which require the most attention are those within your car. Leather seats, gear sticks, dashes and fasciae are all important aspects of your vehicle you need to pay attention to to keep that new car look (and retain that all-powerful resell value). High temperatures, UV, moisture and conversely lack of moisture can all make your beautiful leather seats look 20 years old in no time.
Proper leather care can be a bit demanding in many cases and the picking the right leather care product from the truly huge selection of options available can be a daunting task.
In this guide, we will help you pick the best car leather cleaner to keep your leather surfaces and seats, supple, crack-free and looking great for years to come.
Consider This
Age of Your Car? Modern leather finishes are different from traditional leather (pre-1990's) and absolutely requires different products.
Cleaning, Conditioning or Both? Some products offer combination features whilst others only do one or the other. Be mindful of what you what you want to get out of your purchase.
Light Cleaning or Heavy Duty Cleaning? Are you looking to remove slight to moderate stains or that awful deep stain that's been irritating you for years?
Driving Climate. Uncared for leather will age or deteriorate differently in hotter (dry rot) or wetter areas (wet rot). Different products are available for each environment.
Top 10 Car Leather Cleaners Comparison Chart
Purchase Information
Fortunately, most modern (post-1990's) leather finishes in cars are manufactured with a protective vinyl coating which protects against a lot of environmental damage, great right?
The downside of this, however, is that the good-old-tried-and-tested products of the past are unable to effectively clean, nor condition, newer leather surfaces. Conversely, the cleaning product will stick to the surface of your leather finish and actually accumulate dirt. The best car leather cleaners which are focused at vinyl or other synthetic leather finishes are always well worth the investment.
Keep on the lookout for products which ensure to moisturise as they clean. This will ensure that your leather surfaces remain supple, rich in colour and crack free.
Top 3 Best Car Leather Cleaner Reviews
Vinyl covered leather and faux leather surfaces are becoming more and more common in newer models of cars and often look as luxurious as the real thing.
TriNovas Vinyl and Faux Leather Cleaner & Conditioner is an absolutely essential product for the maintenance of your synthetic leather surfaces. This two-in-one product is both a deep cleaner able to remove grime, mould and moderate strains whilst keeping the surface well moisturised which prevents unsightly cracks and fading.
In addition to vinyl and faux leather, this product has also been shown to be great with other common surfaces such as Durablend, Vegan, Saffiano, Nuluxe, or Bonded leather both in your car and elsewhere around your home.
Trinova's formulas are all quick dry, meaning that cleaning and conditioning need not prevent you from jumping into your car and hitting the road in the shortest time possible.
The bottle design also allows for the maximum use of all the product without having to unscrew the dispenser from the bottle proper all-in-all making this a truly formidable product.
Another great product for keeping your leather finishes looking top notch is Leather Cleaner & Conditioner by KevianClean. This is the perfect leather cleaner for the eco-conscious consumer due to its environmentally friendly formula which will leave you impressed use after use. Made from organic nontoxic, chemical-free, colourless, the KevianClean gentle formula supplies superior protection long after use.
Its eco-friendly status does not, however, take away from this products ability to efficiently clean and moisturise all forms of finished leather surfaces, both in the car and in the household. The KevianClean formula ensures that with every application you simultaneously clean, moisturise and protect your leather surfaces by replacing the essential oils which are lost over time.
It's important to note, however, that this product is not suitable for use with suede, nubuck and aniline finishes but for all other finishes KevianClean has a 100% satisfaction guarantee. You can expect no streaking, fading or greasy finish by using this product.
All-in-all this is a great product for retaining the retail value of your vehicle!
The third best car leather cleaner on our list is the Atlas Leather Cleaner. The people of Atlas have developed a gentle, pH-balanced, all-natural solution which is lacking in harmful solvents, harsh chemicals and other abrasive aspects commonly used in other products which is great for all grains, colours and types of leather.
The Cleaner is perfect for the removal of dirt, grime and stains which often gets sealed into the surface of the leather by other, substandard two-in-one products. The cleaning ability is further improved the moisturising ability of product which is able to retain and replenish the natural oils in the leather finishes.
The Atlas Leather Cleaner is not only suitable for your vehicle but also for many other household and equestrian products. The useful spray applicator allows for the product to be quick, easily and evenly applied to all leather surfaces which prevents the chances of streaking and other uneven marks.
The people at Atlas are so confident in their product that they're offering a 90-day full money refund is you are not 100% satisfied with your product.
Why not give it a try today?
WRITTEN BY

I grew up working on my own cars and motorcycles and 15 years later I love still getting my hands dirty.