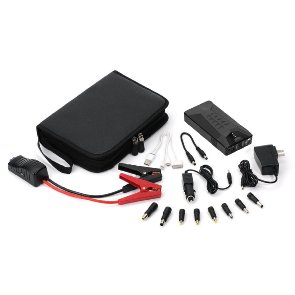 6 Best Car Jump Starters 2021
Whether you own an older car or even if you live in an area that has harsh winters, you will certainly have to jump start...

Whether you own an older car or even if you live in an area that has harsh winters, you will certainly have to jump start your car at some point. While the traditional way of jump starting a car with booster cables and a fellow vehicle is pretty efficient, it's not always an option.
Fortunately, portable car jump starters are now available, making it possible to boost your car's battery no matter where you are. Not all portable jump starters are the same though, making the decision quite complicated. We're going to share the best car jump starter units with you, so you can easily make an educated decision.
Top 6 Car Jump Starters Chart
Choosing a Car Jump Starter
When it comes time to actually purchase a car jump starter, the decision won't be as easy as you think. There are many different factors to consider in order to make sure that you buy the best car jump starter for your needs. We've narrowed down the main aspects to consider to help make your decision much easier to make.
Amperage. Make sure you get a car jump starter with enough power to start your car. Many portable jump starters are slim and incorporate tons of additional perks, but they lack in overall amperage. An average mid-size car will require a minimum of 400 amps, while a larger vehicle such as an SUV would usually require 900 to 1000 amps.
Portability. Chances are; you're going to want to keep the car jump starter in your vehicle. If you don't want it taking up too much space, you should opt for a slimmer, more portable model. Many slim car jump starters are available and some are even small enough to fit in a glove box.
Extra Outputs. Some car jump starters come with additional outputs, such as USB outputs. This allows you to charge your cell phone, tablet, camera and even your laptop. While you should focus on getting the best jump starter for your car's needs, there's nothing wrong with getting a few more uses out of it.
Top 3 Best Car Jump Starters Reviews
The Brightech Scorpion portable car battery jump starter is probably the best option to consider if you have a small car. It can easily be tucked away in your glove compartment or even the center console.
At just 400 amps, this jump starter isn't powerful enough for boosting larger vehicles, but it gets the job done with small and mid-size cars. This jump starter is efficient in hot and cold temperatures.
This portable car jump starter has a built-in flashlight for easy usage during nighttime. It also comes with additional outputs including USB outputs and plug adapters so you can charge your phone, tablet and more on the go.
Equipped with 600 peak amp power and the ability to charge vehicles up to 6.5L, the Gooloo portable car jump starter Power Bank GP37 is one of the best choices on the market. This jump starter is slim and compact, allowing for easy storage.
Dual USB chargers let you plug in your phone, tablet and other devices simultaneously for a quick recharge on the go. A single charge can jump start a vehicle up to 30 times and an unused charge can hold for 6 to 12 months.
This Gooloo portable jump starter is the ideal solution for mid-size cars and car owners searching for a very compact design. It comes with a built-in flashlight and is incredibly simple to use.
The Noco Genius Boost Plus GB40 is a serious jump starter for vehicles of all sizes. Whether you have a small car or even a large SUV, this portable car booster will get the job done. With 1000 amps of peak current and up to 20 jumps on a single charge, you will certainly get your money's worth.
This car jump starter has dual LED flashlights of 100 lumens, which provides an amazing light source for nocturnal jump starts. You can also use this portable car starter to charge your smartphone and other devices.
Up to 4 full smartphone recharges can be achieved with a single charge. This portable car booster is designed for vehicles up to 6L when running on gas and up to 3L when running on diesel.
WRITTEN BY

I grew up working on my own cars and motorcycles and 15 years later I love still getting my hands dirty.