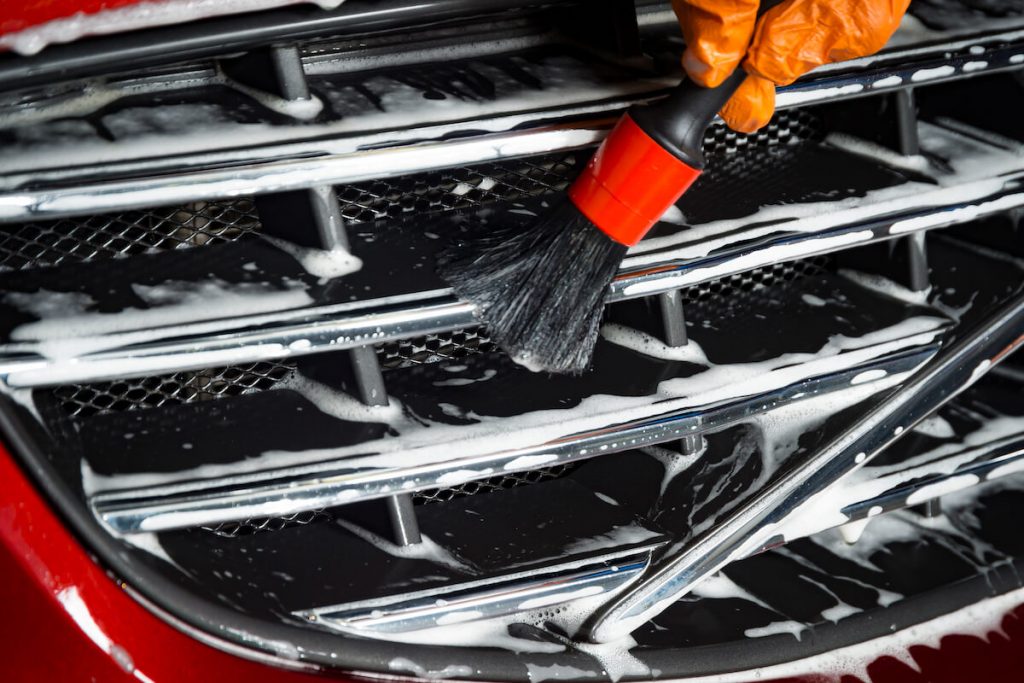 6 Best Car Detailing Products 2021
For those that truly care about the look and maintenance of their cars, quality detailing products are important. While it may be obvious that you...

For those that truly care about the look and maintenance of their cars, quality detailing products are important. While it may be obvious that you will need the right tools for the job, it can be difficult to know which ones meet the standards that car-lovers require.
In our guide below, we will provide you with all of the information that you need to keep your car looking in mint condition.
Compare and contrast the best car detailing products side by side in order to find the right one for your cleaning needs.
What to Keep in Mind
We've included a full range of products and tools used for detailing a car, but before you head down and check them out, here are a few basic products you should know about:
Wash Gloves. Wash gloves for the outside of your car should be large enough so you can spread your entire hand out inside and should also be soft enough to wash without scratching.
Cleaning Cloths. The cleaning cloths should be made of materials that can grab dust away from surfaces to start, but they should be versatile and tough enough to be used in any aspect of cleaning the car.
Dusters. The duster should be convenient to use and should also be made of a material that doesn't brush the dust around but gets into crevices to take it out of the car. This can be one of the best car detailing products when you get a high-quality duster.
Glass Cleaners. The glass cleaner you use in your car needs to be streak-free, regardless of the quality of the tool you might be using.
Brushes. Brushes will help you get into the areas that require more scrubbing without scratching. Having this be a non-scratching cleaning tool is a must.
Top 6 Car Detailing Products Table
Opting for Car Detailing Products
It should be noted that in order to get the best detailing results; you need to invest in more than one product. Detailing is about getting your car completely cleaned, including both the exterior and the interior.
We would recommend having a good combination of products that lead to the overall result that you want to achieve; having a pristine vehicle that you can enjoy.
It should also be noted that detailing any vehicle is a commitment, but when done properly and on a regular basis, it means less work and a beautiful car at all times. Many buyers think that one tool might clean their whole car or that they will use them once and be done.
This could not be further from reality as your car is a place you spend a lot of time and a thing that can get very dirty, very quickly. You need to stay on top of detailing in order for it to be worth your energy and extend the looks of your vehicle in the long run.
Top 3 Best Car Detailing Products Reviews
Detailing any car becomes so much easier with the Relentless Drive Ultimate Car Wash Mitt. This is a wider and more spread out hand mitt so you can have your hand flat inside for easier gliding across the surface.
The mitt material itself is very soft and plush. Using this makes sure that you will never damage the surface of the car when you are washing it as they hold the washing solution but let the dirt rinse away.
It should be noted that these are machine washable and therefore perfect for many uses, which is great news for anyone that details their car often.
Car detailing can be made a lot easier when you have a product that can be used for more than one purpose. The Zwipes Microfiber All-Purpose cloths can do everything from cleaning the exterior and interior of the car, to dusting and polishing.
The fibers have been designed to pick up more dirt and dust, something that will cut your cleaning time down.
The material of the cloth also means that there are never any scratches or streaks left behind. This is often an issue with car windows and cleaning the surfaces inside that can easily be avoided.
The Carrand 97372AS AutoSpa is among the best car detailing products because it is so incredibly affordable and effective. This is a duster that makes detailing the interior of your car so easy to do on a regular basis.
The duster comes on a handle so it is very comfortable to use. The material that makes up the duster itself is especially good at getting into smaller places that are hard to reach.
This means that you can use the duster on cup holders and crevices that would have previously taken a lot more time and attention.
WRITTEN BY

I grew up working on my own cars and motorcycles and 15 years later I love still getting my hands dirty.