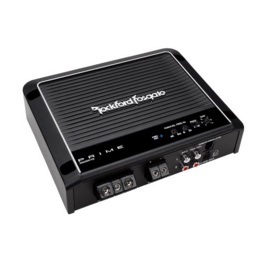 10 Best Car Amplifiers 2021
Anyone who loves a crisp sound system should definitely be looking to install an amplifier in their car. If you have started to research into...

Anyone who loves a crisp sound system should definitely be looking to install an amplifier in their car. If you have started to research into the best car amps you will know that it quickly becomes difficult to know what you are looking for.
It can all depend on whether you are opting to improve the factory sound system pre-installed in the car or rigging up a whole new system. To assist you with making the right decision and including the perfect amplifier we have constructed a list of the top ten in the industry right now.
Points to Remember
Understanding Channels. 1 Channel or Monoblock this is for wiring to a single sub speaker, 2 Channels a clear sound that allows two speakers to be wired, 4 Channels allows four speakers to be wired to the amplifier.
Features. There are plenty of specific features that can come with a model. The best car amplifier for you will be the one that suits your exact needs. As these requirements are generally varied and personalized you will need to look into this with each specific model.
Size. One of the biggest mistakes that buyers make is looking only at the specifications of the amplifier but not the actual physical size of the model. If it doesn't fit where it needs to then it will be very disappointing.
The majority of amps are small enough fit into most spaces, such as under a seat, whilst not compromising on power. This, however, is not something you want to risk and you should always look at the measurements before buying.
Top 10 Car Amplifiers Ultimate Table
Buying the Best Car Amp: Power Is Everything
Knowing the ohm limit of your amplifier is what makes the difference between wasting your money and having the best car amplifier. Ohm is the unit of measurement for electrical resistance.
Speakers have a range of ohm settings that need to be matched to the amplifier that you are purchasing. If you have already bought or own speakers then you need to be very careful choosing the right amp from our list. If you are yet to match your speakers then consider exactly what kind of setup you would like in your car.
Spending some time getting to know ohms and speaker resistance will greatly lessen your chances of blowing your amp at a later stage.
Top 3 Best Car Amplifiers Reviews
The Rockford Fosgate R500X1D is packed with all of the power you could possibly want for your car amplifier. The sound is always clear and because of its smaller size it is easy to install and use without it being too obvious.
While this level of amp may be more expensive, it is well worth the cost when you consider how much punch and control you get from it. Being able to customize the set up is mainly due to the size of the amp.
While this is not an amplifier that will wake up the neighborhood, it enhances the sound that you get in the car, which will make any ride better without getting complaints. The amp itself does not overheat either, which makes it less of a worry for those that have experience with amps of lesser quality.
It should also be noted that this unit does come from the factory with a remote so there is no need to buy a different one. It should also be noted that the control knob on this unit works perfectly and does exactly what it should.
The first thing that needs to be said about the Hifonics ZRX1016.4 Zeus ZRX is that it is a beautiful piece of electronic equipment. It always draws compliments and even jealous looks from other drivers too. The emblem on the logo of this amp even lights up making for an even more dramatic overall effect when it is in use. This always draws eyes and is a great added feature.
The power of this amp combined with the looks makes it well worth the money. All of the specs are true to what the amp can actually do. Being spoiled by this amp means never looking to buy from another maker or use even a different model. There are no problems in terms of use, size, look, or power. It should be noted that this amp it a bit longer than other models and will not fit under every seat. This amp also doesn't have problems with overheating.
If power is what you are looking for then the Clarion Mobile Electronics XC1410 is for you. This amp is relatively small but packs a punch in terms of power. The sound not being loud enough is never an issue or a complaint with this amp.
This model is easy to install because of its size and its clear instructions. The lightweight nature of the model means it is easy to secure with a few ties and doesn't require much more than that. This amp gives any speakers the boost they need without taking up too much space. With this kind of power and the stellar reputation of the Clarion brand, this is an excellent buy.
It should also be noted that there are extra cables and wires that are needed to install this amp that are easy enough to find and figure out. The best part about using this amp is the sound clarity. The crispness is never lost even with the increased volume levels.
WRITTEN BY

I grew up working on my own cars and motorcycles and 15 years later I love still getting my hands dirty.