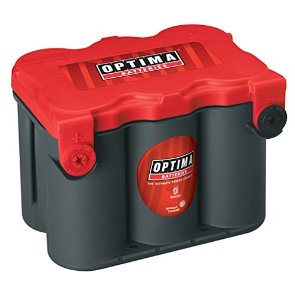 Best Battery for Car Audio 2021
You're driving along a long road at night. Your music is blaring through your new sound system. The bass drops and you notice that your...

You're driving along a long road at night. Your music is blaring through your new sound system. The bass drops and you notice that your lights are dipping in time with the beat. Pulling over, you turn off your car to have a look at your lights whilst forgetting that you left your music on. Your tunes cut out and worse, your engine refuses to turn over.
What could have caused this? Unfortunately, battery choice is an important aspect which needs to be considered when upgrading your sound system. A quality high capacity, deep cycling battery is an absolutely essential investment for any automotive audiophile.
In this guide, we'll walk you through the process of picking the best battery for car audio system for your vehicle to keep you energised on all your future adventures.
Top 6 Batteries for Car Audio Table
Some Information to Keep You in the Know
Battery Types. Car batteries come in two main types, starting batteries (used for kick-starting a vehicle) and AGM (Absorbent Glass Mat) /gel batteries for car audio. The later are a higher quality, higher capacity deep cycle battery which uses up to 80% of their capacity (though they're more expensive).
Efficiency and Capacity. An efficient battery saves you time and money. Deep cycle batteries such as AGM, Gel and Flooded lead are the most efficient and boast the greatest capacity. The higher the C20 capacity the longer the battery will perform with the car off.
Maintenance. The maintenance of a battery is directly correlated to how the battery is sealed. Flooded lead requires more maintenance whilst AGM/Gel requires the least.
Mounting Flexibility. Flooded lead batteries are required to be maintained upright. AGM and Gel batteries which are 100% sealed can be placed in any orientation.
Safety. Abused batteries may lead to a gas build-up and explosions. AGM and Gel batteries have a lower probability of exploding due to less usage of H20 to Hydrogen.
Top 3 Best Battery for Car Audio Reviews
First on our list of best battery for car audio is the Optima 78 RedTop. Optima is widely regarded as the best battery brand on the market and has been making quality AGM batteries using their patented SpiralCell technology since the early 1990s.
The 78 RedTop AGM battery is a powerful enhancement to any sound system. It's spill-proof, 12 volts, 50Ah, 800 cold cranking amps design delivers strong starts in even the worst conditions. Its innovative design is fifteen times for resistant to damage caused by vibration engendering unsurpassed durability (lasting up to two times longer than other top battery.
With a reserve capacity of up to 100 minutes, a truly impressive high-power delivery system and a notable resistance to all the common causes of battery failure makes this a stunning option for anything from trucks to hot rods.
If your system is extremely power hungry, we really recommend the "Yellow Top" battery range from Optima, however, in 95% of cases, the 78 RedTop Starting Battery has more than enough juice.
A three-year warranty is also a great bonus, but the battery has been known to last up to double that which immediately translates into money in your pocket!
Second on our list is the Kinetik HC1200-REV audio battery. This 12V high current audio cell with its sealed AGM design can be used as a replacement for your current battery as well as a highly capable option for 1200W audio systems. Its ultra-low internal resistance (ESR) allows for efficient electric conductivity.
The highly robust sealed reinforced plastic case is effective in reducing extreme heat and damage due to excess vibration. The people at Kinetic have developed their products with additional internal plates for improved energy density and a high voltage under load to keep your accessories powered under pressure.
The battery also boasts some truly impressive features such as 1150 cold cranking amps, a high capacity 40Ah rating and has the ability to actually store energy removing the need for a capacitor and saving you money. The 100% sealed leak-proof design ensures that the battery can be mounted in any region of the car with little risk of leakage and damage.
This battery also comes with a great 2-year manufacturers warranty, so why not give this product a shot?
The third best battery on our list is the SQB2000 Power Battery by Soundquest. This powerful battery is a great addition to any 2000 plus watt automotive sound system. Made of high-quality materials this 12V dry cell battery has been built with a sophisticated sealed glass mat design which makes it a great option as a replacement for a regular stock battery and will more than hold its own in an aftermarket sound system.
A clever leak proof design in conjunction with removable brass connections allows this product to be easily mounted in any location of your vehicle hazard-free. The 33Ah design puts out 525 cranking amps and the battery is known to be good for over 300 full discharge cycles.
This battery also has the ability to store energy, thus ameliorating the need for an additional capacitor for your sound system which keeps your money in your pocket where it belongs.
This is a product which was designed for the modern automotive music enthusiast and is well worth the investment.
WRITTEN BY

I grew up working on my own cars and motorcycles and 15 years later I love still getting my hands dirty.