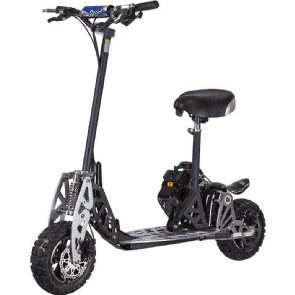 7 Best 50cc Scooters of 2021
Scooters are useful, affordable vehicles that come in handy for short distances. Whether you want to go to your local market, use it for daily...

Scooters are useful, affordable vehicles that come in handy for short distances. Whether you want to go to your local market, use it for daily commute to college/workplace or just amble around the neighborhood – a scooter is a good, economical mode of transportation.
As with other automobiles, a scooter's power is measured by its engine displacement (expressed in cubic centimeters or cc). 50cc is the entry point into the scooter market and it is easy to undermine its importance because of the lower power and speed. This buying guide is designed to help you determine your requirement and narrow down the choices so that you can buy the best 50cc scooter.
Consider the Following
Given their lower power and speeds, it is easy to buy a 50cc scooter without giving due attention to its technical and safety aspects. In this section, we present a few points that should be at the top of your mind while buying a scooter. "Purchase Information" section (covered later) would add more to it.
Power. 50cc scooters are designed for lightweight riders who are happy going around the city at 25 MPH without any passengers or excessively heavy loads.
Terrain. 50cc scooters are not meant for the rigors of mountains or dirty, uneven, hilly terrains. We recommend these only if you would mostly be riding on flat, non-bumpy roads.
Licensing Laws. Different states have different laws with regard to 50cc scooters. If you are about to buy a 50cc scooter just because it can be ridden without obtaining any formal training, we highly recommend otherwise. Proper training should be undertaken before operating any motorized vehicle out on the streets and 50cc scooters are no different.
Top Seven 50cc Scooters Chart
Purchase Information
You should buy a 50cc scooter because it serves your purpose the best – not because you want to avoid a cycle endorsement on your driver's license, as mandated by many states.
Speed Limits. Pay close attention to the speed limits of roads you are likely to travel on. On one hand, you don't want to be pushing the scooter too hard. On the other, you need to be able to keep up with the traffic on those roads. Freeways and highways are strict 'No' for 50cc scooters.
Room for Acceleration. This point is often overlooked since 50cc scooters aren't known for speed. Still, you need to have enough room to accelerate out of tight situations.
Rider. 50cc scooters have limited weight carrying capacity, typically in the range of 180 to 250 pounds. If you are looking for a scooter for an early teenager, you can pretty much go with any product as long as it supports the weight carrying capacity. Electric scooters are also a great options for kids, that are very similar to fuel powered 50cc scooters.
Top 3 Best 50cc Scooter Reviews
This is probably the best 50cc scooter for kids since it is not a full-fledged scooter. If you are looking for a scooter for adults, we recommend having a look at the table presented above as well as other two reviews. Back to the product, this Evo power-board comes with all the tools you would need to assemble it.
Once set up, it is easy to operate and maintain. Most of the spares are easily available online. It does a top speed of around 35 mph for a 150+ pound rider, which makes it a solid performer. The 2 speed gearbox greatly enhances the riding experience and the shifter is thoughtfully placed to enable easy thumb shift. The 50cc, 2 Horse Power, 2 stroke engine delivers decent power even when going uphill. A lot of aluminum has been used in wheels and brakes to keep things strong.
Next time you are looking for a gifting idea for your kid, don't look too far and behold the joy!
The Gigabyke Groove would probably win the beauty pageant for small scooters, if ever there was one. What's better is that it has a lot more to offer in terms of utility. For a battery operated vehicle that can get you up to 20 miles an hour and carry you for 35 miles on a single charge, it is quite a handful.
It takes 6 hours to be fully charged and can carry a rider of up to 250 pound, which makes for the best specifications. Other useful features such as speedometer, LED headlamp, turn indicators and disc brakes enhance ride quality and safety. It is a street legal scooter and even though most states don't require you to have a registration, license or insurance – though we highly recommend you check state specific regulations.
Whether you are looking for a scooter for an adult or a child, we hope this guide gave you ample information and options to choose from.
Reach speeds of up to 35 MPH with this popular model from TaoTao.
This is a simple, straightforward scooter that works great for beginners thanks to the CVT-based automatic transition. There is also plenty of storage space thanks to the lockable trunk as well as storage space under the seat that will fit most helmets.
The fuel consumption is a cool 100 MPG, which makes it the perfect little commuter to help you save money and find better parking spaces to boot!
Replacement parts are also easy to locate since TaoTao is quite popular in the scooter industry.
If you're looking for a dependable and affordable scooter that is fully street legal, this one comes highly recommended!
WRITTEN BY

I grew up working on my own cars and motorcycles and 15 years later I love still getting my hands dirty.